The brand revealed billboards in key markets across the country that aim to help make long-overdue hangouts a reality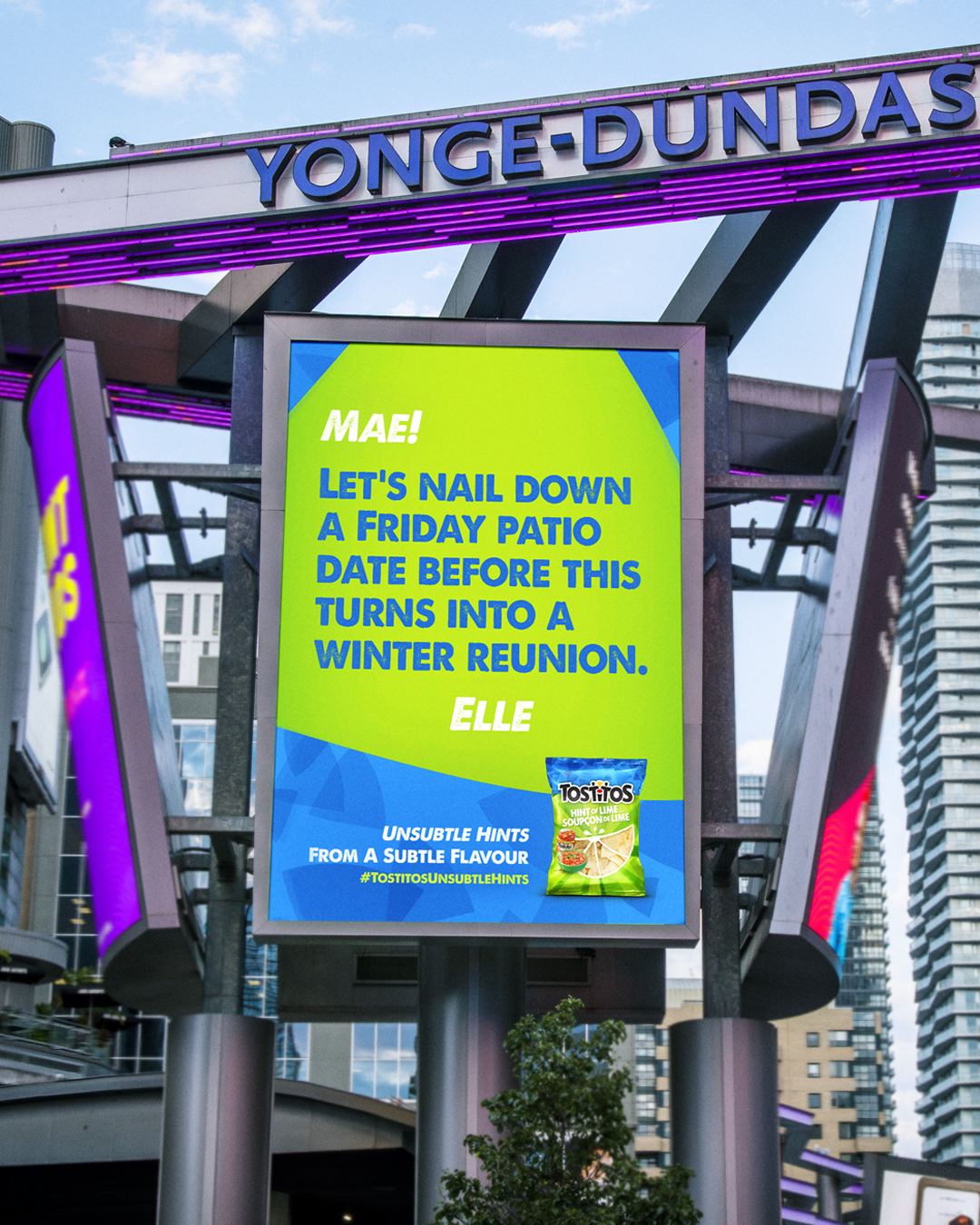 /EIN News/ — MISSISSAUGA, Ontario, Oct. 03, 2023 (GLOBE NEWSWIRE) — The Tostitos® brand and its 'Hint of' lightly flavoured tortilla chip line-up are excited to unveil a series of large-scale billboards across Canada that aim to bring crews across the country closer together. The billboards are part of the brand's "Unsubtle Hints from a Subtle Flavour" campaign and feature messages from Canadians eager to drop a hint and get their friends' attention to hang out.
The Tostitos brand knows it can be challenging to get together with friends—between coordinating schedules and finding the time—it can be hard to get plans out of the group chat. In fact, a recent survey by the brand found that it takes 44 per cent of Canadians with close friends about 1 to 4 weeks to arrange an in-person hang*.
Bringing crews together is what the Tostitos brand is all about. It's the perfect snack made to be shared. But the truth is, finding time to spend with your friends can feel like a never-ending cycle of scheduling and rescheduling," says Jess Spaulding, CMO of PepsiCo Foods Canada. "Although the Tostitos "Hint of" line-up is subtle in flavour, there's nothing subtle about how we're helping Canadians make their crew hangs a reality by capturing their friends' attention in a can't-miss way."
Hints were selected from online submissions, all in an effort to help Canadians get together with their crew despite the busyness of life in a format that is anything but subtle – on a billboard near them.
Some of the hints featured included:
Patrick, I know we're roommates, but I never see you anymore! Let's make an official plan to hang. – Ben
Steph, Wow you'll read this billboard but not my texts? 😉 Get off at the next exit and come over! – Sanja
Ally, Calendar e-vites feel super adult, we've got to do better. Let's hang out IRL? – Kenzie
When it comes to a good hangout, good food is a must. With four lightly-seasoned tortilla chip flavours, including fan favourite Hint of Lime, the "Hint of" line-up has something for everyone, so you can focus on what matters—creating unforgettable moments with your crew.
So raise a chip and toast to unforgettable moments with your crew. Make sure to share your crew hangs by tagging @tostitoscanada and by using #TostitosUnsubtleHints and #LetsToast.
About Tostitos Canada
Tostitos tortilla chips, salsa and dips are versatile snacks perfect for every occasion. Tostitos is one of PepsiCo Canada's flagship brands. For more information, please visit www.tostitos.ca.
About Frito-Lay North America
Frito-Lay North America is the $19 billion convenient foods division of PepsiCo, Inc. (NASDAQ: PEP), which is headquartered in Purchase, NY. Frito-Lay snacks include Lay's® and Ruffles® potato chips, Doritos® tortilla chips, Cheetos® snacks, Tostitos® tortilla chips and branded dips, SunChips® multigrain snacks and Fritos® corn chips. The company operates 30+ manufacturing facilities across the U.S. and Canada, more than 200 distribution centers and services 315,000 retail customers per week through its direct-store-delivery model. Learn more about Frito-Lay at the corporate website, www.fritolay.ca, on Instagram (@fritolay_canada) and on Facebook (Frito-Lay Canada).
About PepsiCo Foods Canada
PepsiCo Foods Canada is comprised of the Frito Lay Canada and Quaker Canada businesses. The company employs over 6,000 Canadians with seven manufacturing plants and sales and distribution facilities from coast to coast. Frito Lay Canada is the country's largest snack food manufacturer and the company's brands include Lay's, Doritos, Tostitos, Ruffles, Smartfood and Cheetos. The Quaker brand portfolio includes a wide range of wholesome cereals, oatmeal, rice and corn snacks and snack bars, and features other prominent brands such as Quaker Life, Quaker Chewy, Quaker Harvest Crunch and Crispy Minis. For more information, please visit www.pepsico.ca.
About the Survey
This Maru Public Opinion survey conducted on behalf of the Tostitos® brand was undertaken by the sample and data collection experts at Maru/Blue. 1,568 randomly selected Canadian adults who are Maru Voice Canada online panelists were surveyed from May 17th to May 18th, 2023. The results of this study have been weighted by education, age, gender and region (and in Quebec, language) to match the population, according to Census data. This is to ensure the sample is representative of the entire adult population of Canada. For comparison purposes, a probability sample of this size has an estimated margin of error (which measures sampling variability) of +/- 2.5%, 19 times out of 20. Discrepancies in or between totals when compared to the data tables are due to rounding.
SOURCE PepsiCo Canada
For further information: Meredith Sedgwick, Citizen Relations meredith.sedgwick@citizenrelations.com
A photo accompanying this announcement is available at https://www.globenewswire.com/NewsRoom/AttachmentNg/ab113688-27ea-4656-91b9-eaf4b3b5c0fa
You just read:
Tostitos® "Hint Of" line-up is getting the attention of Canadians and their friends in a BIG way by showcasing unsubtle hints from a subtle flavour
EIN Presswire's priority is source transparency. We do not allow opaque clients, and our editors try to be careful about weeding out false and misleading content. As a user, if you see something we have missed, please do bring it to our attention. Your help is welcome. EIN Presswire, Everyone's Internet News Presswire™, tries to define some of the boundaries that are reasonable in today's world. Please see our Editorial Guidelines for more information.