Google Cloud used the first day of its London-based user and partner conference to confirm the launch of a dedicated business unit, geared towards helping the firm trap more public sector business in the UK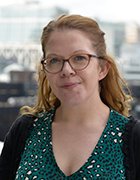 By
Published: 12 Oct 2023 12:00
Google Cloud is stepping up its efforts to court public sector IT buyers with the launch of a dedicated business division geared towards helping government departments and agencies use its tools to provide better-quality public services to UK citizens.
The public cloud giant announced the division's launch on the first day of its Google Cloud Next London partner and customer conference, where various members of the company's senior leadership took to the stage to talk up the enterprise appeal of its generative artificial intelligence (GenAI) offerings.
The event also saw a slew of Google Cloud customers announce expanded partnerships with the company, including retail behemoth the John Lewis Partnership, consumer goods brand Unilever and telco giant BT.
During the opening keynote, Helen Kelisky, managing director for the UK and Ireland at Google Cloud, talked up the "incredible growth" the company has seen over the past 12 months, with its cloud and generative AI offerings taking the enterprise and startup world by storm.
"We've seen incredible growth across our business," she said. "In the UK, we're now working with 40% of the FTSE 100 and have a thriving startups and digital natives [using our technology].
"Of course, the headline has been the explosion of generative AI, [which] is fundamentally changing the way we work and do business in front of our eyes.
"I'm really proud to say, globally, 70% of generative AI unicorns are Google Cloud customers," said Kelisky. "Today, more than half of the generative AI startups, headquartered in the UK, are Google Cloud customers."
Public sector
Google Cloud is now turning its attention to winning over more of the public sector with its cloud and GenAI wares with the creation of a dedicated business division, announced by Kelisky in a blog post published to coincide with the first day of the show.
"We have an extensive history of working with the public sector," she wrote. "For example, we continue to support the Department for Transport, helping it utilise data to better support decision-making during the pandemic. We partnered with the Office for National Statistics to deliver the UK's 2021 census. And we are supporting the NHS to improve access to citizens' health and care data across England's Yorkshire and Humber region.
"Most recently, we signed a memorandum of understanding with the Defence Science and Technology Laboratory to help accelerate the adoption of cloud technologies and artificial intelligence (AI)."
According to data shared with Computer Weekly by public sector IT market watcher Tussell, Google Cloud has earned £3.6m in sales from public sector clients since it opened its first UK datacentre region in July 2017.
The company is one of a number of hyperscale providers that has previously signed a memorandum of understanding with the UK government – via its procurement arm, Crown Commercial Service (CCS) – to provide public sector organisations with preferential pricing on its services.
Computer Weekly contacted CCS to see what the status of that agreement is, as it is understood to have expired in 2021. A spokesperson for the organisation said CCS is "looking to renew" the MoU. 
The company is also part of the government's hyperscale-focused Cloud Compute Framework, which is currently in the throes of being renewed and revamped.
The majority of this spend has come from the Department for Digital, Culture, Media and Sport (DCMS), a long-standing user of Google Cloud's online business productivity suite, Workspace, while the work it did with the ONS equated to a spend of £1.4m.
For context, though, over the same time period, its public cloud rival Amazon Web Services (AWS) has earned £811m in public sector cloud spend, according to Tussell's data.
As previously reported by Computer Weekly, the hold that both AWS and Microsoft has on UK cloud market is set to be the subject of a probe by the Competition and Markets Authority, on the back of a year-long review into the market by communications regulator Ofcom.
Google's decision to set up a public sector-focused business division could therefore be considered rather timely.
"Google Cloud Public Sector UK brings the expertise and resources needed to help public sector organisations manage and protect their sensitive data," said Kelisky, in a blog post. "This includes frontline intelligence and assistance to help prevent and respond to security incidents; a modern, AI-powered cloud-native platform to drive security operations; and a secure-by-design, secure-by-default cloud platform underpinning it all.
"UK public sector organisations are focused on providing British citizens with digital services that are agile, secure and reliable. By bringing together our AI and cloud computing capabilities, diverse teams of experts and deep experience, Google Cloud Public Sector UK is ready today to help public sector agencies use technology to deliver improved public services across the nation."
Read more on Infrastructure-as-a-Service (IaaS)