NOT FOR DISTRIBUTION TO UNITED STATES NEWSWIRE SERVICES OR FOR DISSEMINATION IN THE UNITED STATES
VANCOUVER, British Columbia, Sept. 29, 2023 (GLOBE NEWSWIRE) — ExGen Resources Inc. (TSX.V: EXG; OTC: BXXRF) ("ExGen", the "Company") is pleased to provide an update on its DOK project in northern British Columbia which is currently under option to Mountain Boy Minerals Ltd. (MTB). Under the terms of the option Mountain Boy may acquire a 60% interest in the DOK claims by paying $230,000 and issuing 1,500,000 shares to ExGen and by spending $2,500,000 on the DOK claims by January 2026.
Jason Riley, CEO of ExGen commented: "ExGen is excited with MTB's report of significant visual copper sulphide mineralization in the first drill hole and that holes 1 and 3 have traced porphyry style copper mineralization for 700 meters on surface. We look forward to continued updates from both partner funded drill programs at DOK and Navarre through the end of this year."
In a news release dated September 28, 2023, Mountain Boy announced that the ongoing drilling program on the DOK claims, now part of its Telegraph porphyry project "has intersected evidence of porphyry style mineralization in all three of the drill holes on the Telegraph copper-gold project in British Columbia's Golden Triangle. These widely spaced holes confirm the potential of an extensive mineralized porphyry system. Drilling is on-going.
The geological setting of the Telegraph property is similar to four world-class porphyry copper-gold deposits in the same region, all of which are being advanced by major mining companies. MTB put together a 344 square kilometer land package beginning in 2021 and is now exploring this area for the first time on a consolidated basis.
Initial visual results from the upper part of the first hole were reported in a news release on August 28. Hole 1 was drilled to 485 metres with chalcopyrite still visible at end of hole. The hole tested an induced polarization chargeability anomaly coincident with a copper soil geochemistry anomaly and mineralized breccia mapped on surface. Drill core samples have been shipped and received by ALS laboratories and assays are pending.
The second hole tested a second chargeability anomaly 2.5 km southeast of Hole 1. This target could represent a separate porphyry center. The hole encountered intense pyrite-dominant sulphide stockwork and is interpreted to be phyllic alteration peripheral to a porphyry center. (See Figure 1.) Samples are currently being cut and will be shipped shortly. Logging and geochemistry from drill core, combined with surface mapping and geophysics should provide important vectors for future drill targeting.
The third hole, 700 meters southeast of the first hole is currently being drilled. The hole has intersected potassic alteration and copper mineralization with many similarities to the first hole. (See Figures 2 to 6.) Drilling continues, with copper mineralization still visible at 500 meters. Holes 1 and 3 have traced porphyry style with copper mineralization for 700 meters.
The Telegraph porphyry mineralization exhibits alkalic affinity, a subgroup of porphyry deposits with typically copper and gold mineralization. They are found in only a few locations worldwide, including British Columbia. Alkalic porphyries frequently occur in clusters, typically several hundred meters across. Alteration halos are less extensive than typical calc-alkalic porphyries. The Galore Creek deposit, 30 km south of the Telegraph property, hosts a cluster of porphyries, collectively containing 1.2 billion tonnes of measured and indicated resource grading 0.46% copper and 0.29 grams per tonne gold, containing 12 billion pounds of copper and 9.4 million ounces of gold. The Galore Creek deposit is currently being advanced in a joint venture between Teck and Newmont.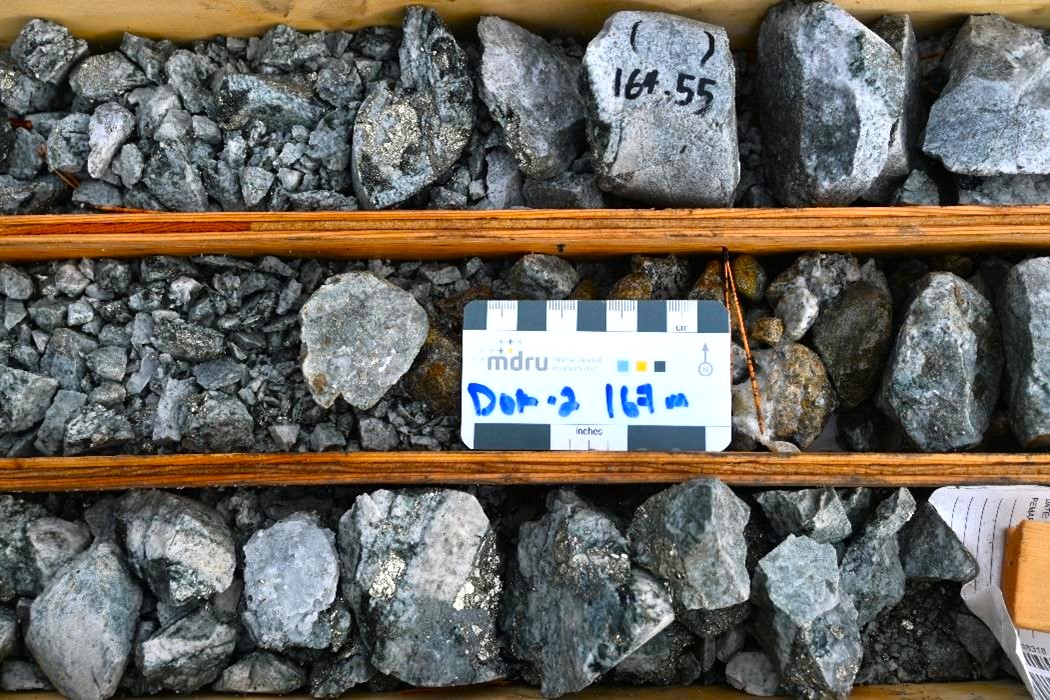 Figure 1 – Sample from DK2023-002 showing a zone of intense sulphide stockwork. 164.55 is a Terraspec (SWIR) sample location.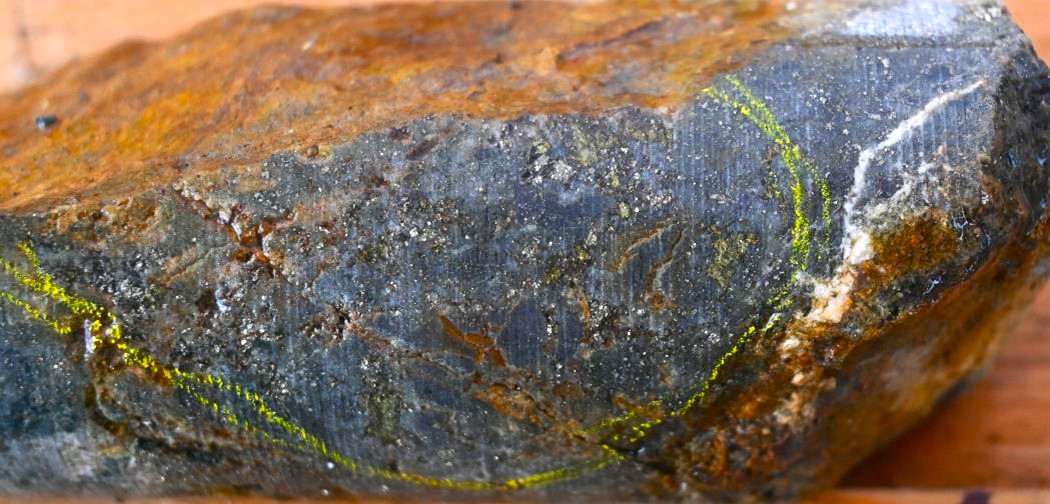 Figure 2 – Sample from DK2023-003 showing pyrite and chalcopyrite mineralization.

Figure 3 – Sample from DK2023-003 showing chalcopyrite mineralization associated with potassic alteration.

Figure 4 – Sample from DK2023-003 showing chalcopyrite mineralization associated with potassic alteration.

Figure 5 – Sample from DK2023-003 showing chalcopyrite mineralization associated with potassic alteration.

Figure 6 – Close up of Figure 5 to highlight fine grained disseminations of chalcopyrite associated with the biotite (black mineral) throughout.
Work to date has focused on the northern portion of the Dok Trend. The trend extends for at least 3 km beyond the drilling and remains open to the southeast. Two other important trends – Strata and Yeti – are emerging, both with potential to host additional porphyry-style mineralization.
Drilling is proceeding on schedule and is anticipated to continue through October. Induced Polarization (IP) geophysical surveys have proven to be a meaningful tool for targeting on the property, so the company has initiated an additional IP survey to fill the gap between the two previous IP surveys for the month of October. The area of interest has a high concentration of copper-rich soils and could quickly become drill targets for next season.
Lucia Theny, Vice-President, Exploration noted: In recent times, only five holes have been drilled on the property. We are encouraged and excited by the visual drill results so far, which includes porphyry style copper mineralization intersected in drill core over 700-metres on surface."
The reader is cautioned that visible copper and/or porphyry style mineralization does not necessarily equate to significant concentrations of copper and there is no assurance that the assay results of the samples from these drill holes will yield significant copper grades.
QUALIFIED PERSON
Kieran Downes, Ph.D., P. Geo., a Qualified Person as defined by National Instrument 43-101, has reviewed and verified the technical information provided in this release.
ABOUT EXGEN RESOURCES INC.
ExGen, formerly Boxxer Gold Corp, is a project accelerator that seeks to fund exploration and development of our projects through joint ventures and partnership agreements. This approach significantly reduces the technical and financial risks for ExGen, while maintaining the upside exposure to new discoveries and potential cash flow. The company intends to build a diverse portfolio of projects across exploration stages and various commodity groups. ExGen currently has 5 projects in Canada and the US.
For more information on ExGen please contact ExGen Resources Inc.
Neither the TSX Venture Exchange nor its Regulation Services Provider (as that term is defined in the policies of the TSX Venture Exchange) accepts responsibility for the adequacy or accuracy of this release.
Forward-Looking Information: This news release may contain certain forward-looking information. All statements included herein, other than statements of historical fact, are forward-looking information and such information involves various risks and uncertainties. In particular, this news release contains forward-looking information regarding: the observations made on drill core from the diamond drilling program and the proposed drilling and exploration program on the DOK claims and larger Telegraph Creek Project. There can be no assurance that such forward-looking information will prove to be accurate, and actual results and future events could differ materially from those anticipated in such forward-looking information. This forward-looking information reflects ExGen's current beliefs and is based on information currently available to ExGen and on assumptions ExGen believes are reasonable. Known risk factors include, among others: the possibility that the analytical results from the core sampling does not return significant grades of copper; uncertainties relating to interpretation of drill results and the geology; continuity and grade of mineralization, the exploration and drilling program on the DOK project may be delayed or not completed at all; the exploration and drilling program may not intersect any mineralization or mineralization as favorable as suggested by the current and historical exploration; ExGen may not be able to comply with its ongoing obligations regarding the DOK Property; fluctuations in copper and gold prices and demand; currency exchange rates; conditions in the financial markets and the overall economy may continue to deteriorate; uncertainties relating to interpretation of the previous exploration results, the need to obtain additional financing and uncertainty of meeting anticipated program milestones; uncertainty as to timely availability of permits and other governmental approvals. Forward-looking information is subject to known and unknown risks, uncertainties and other factors that may cause the actual results, levels of activity, performance or achievements of ExGen to be materially different from those expressed or implied by such forward-looking information. Such risks and other factors may include, but are not limited to: the early stage development of ExGen and its projects, and in particular, the early stage of the DOK Project; general business, economic, competitive, political and social uncertainties; capital market conditions and market prices for securities, junior market securities and mining exploration company securities; commodity prices, in particular copper, gold, silver, and zinc prices; competition; changes in project parameters as plans continue to be refined; accidents and other risks inherent in the mining industry; lack of insurance; delay or failure to receive board or regulatory approvals; changes in legislation, including environmental legislation, affecting ExGen; conclusions of economic evaluations; and lack of qualified, skilled labour or loss of key individuals. A description of additional assumptions and risk factors used to develop such forward-looking information that may cause actual results to differ materially from forward-looking information can be found in ExGen's disclosure documents on the SEDAR website at www.sedar.com. Although ExGen has attempted to identify important factors that could cause actual results to differ materially from those contained in forward-looking information, there may be other factors that cause results not to be as anticipated, estimated or intended. Accordingly, readers should not place undue reliance on forward-looking information. ExGen does not undertake to update any forward-looking information except in accordance with applicable securities laws.
Photos accompanying this announcement are available at:
https://www.globenewswire.com/NewsRoom/AttachmentNg/8498ffa8-7574-4e2c-8029-80a05e41abeb
https://www.globenewswire.com/NewsRoom/AttachmentNg/bccc4cde-c1d1-4de9-8a72-7e5ec4bd646a
https://www.globenewswire.com/NewsRoom/AttachmentNg/839565af-f35c-45d8-bb23-334176aa3838
https://www.globenewswire.com/NewsRoom/AttachmentNg/2bdf282e-26c2-4eb8-9fef-7599f930df21
https://www.globenewswire.com/NewsRoom/AttachmentNg/c4a254c8-87ab-43d3-92a8-65a302c88160
https://www.globenewswire.com/NewsRoom/AttachmentNg/16872b1d-decc-4df5-95fe-400c56a72cb8