VANCOUVER, British Columbia, Oct. 04, 2023 (GLOBE NEWSWIRE) — American Pacific Mining Corp (CSE: USGD / OTCQX: USGDF / FWB: 1QC) ("American Pacific" or the "Company") is pleased to announce that one drill rig has remained to test the Christmas/Red Creek ("CRC") Target area during demobilization of the 2023 mountain drilling program. The CRC Target is one of 12 known VMS showings at the Palmer Project ("Palmer" or the "Project") outside the mineral resource envelopes of the Palmer and AG deposits (see Figure 1).
Palmer is an advanced-stage, high-grade volcanogenic massive sulphide-sulphate deposit ("VMS") located in the Porcupine Mining District of the Haines Borough, Alaska, US. Constantine North Inc. ("Constantine"), a subsidiary of American Pacific, is the operator for the Project and the US$25.5 million 2023 program has been funded by joint venture partner Dowa Metals & Mining Co., Ltd ("Dowa").
"The regional exploration upside and potential for additional discoveries is considered excellent at Palmer, and we are pleased to incorporate this initial ~500 metres before the end of this year's drill campaign," stated Warwick Smith, CEO of American Pacific Mining. "We are pleased to be drilling new targets during the 2023 program that are outside of the known mineralized zones. During the season our technical team also completed mapping and sampling of numerous exploration targets and we look forward to more discovery-focused drilling as we aim to both de-risk and expand mineral resources at Palmer going forward."
The CRC Target area is located approximately 3 kilometres ("km") east of the Palmer deposit (see Figure 1). Stratigraphy at CRC is interpreted as a folded mafic and felsic volcanic sequence, with textural, geochemical and alteration characteristics that are similar to the felsic volcanics that host the AG deposit. Completing one to two (1-2) road-accessible drillholes will provide valuable data in this area, which has had limited exploration work previously.
American Pacific considers 2023 to be an outstanding year for Palmer. The technical team continuously progressed the Project from exploration toward advanced evaluation. The productive 2023 infill and geotechnical drilling at the Palmer deposit resource area has concluded. The Company expects to report initial assay results shortly, along with a full summary of the 2023 program accomplishments.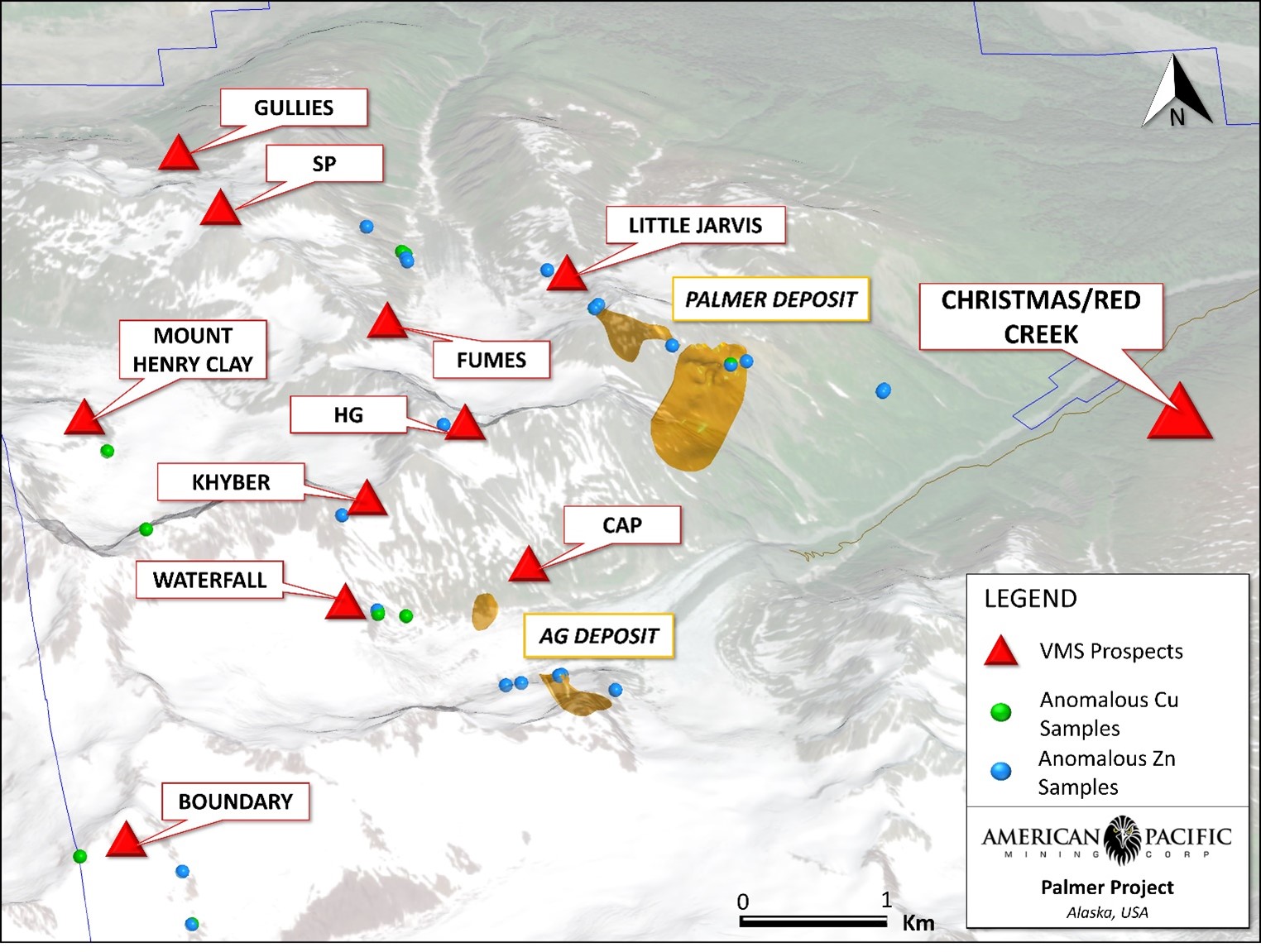 Figure 1: Showing known VMS prospects and locations for notable Cu-Zn samples (up to 8.5% Cu and 25% Zn)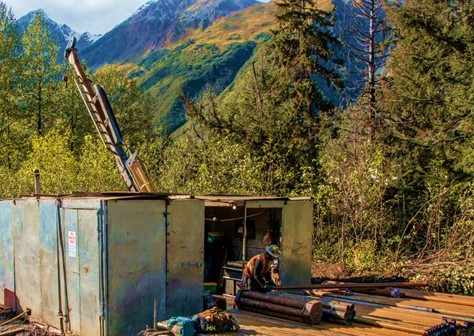 Image 1: Drilling underway at Christmas/Red Creek Prospect
Qualified Person
The scientific and technical information in this news release was reviewed and prepared under the supervision of Michael Vande Guchte, P.Geo., Vice-President Exploration for the Palmer Project. Mr. Vande Guchte is a Qualified Person under National Instrument 43-101 Standards of Disclosure for Mineral Projects. Mr. Vande Guchte has verified the data related to the exploration information disclosed in this press release through his direct participation in the work.
About American Pacific Mining Corp.
American Pacific Mining Corp. is a precious and base metals explorer and developer focused on opportunities in the Western United States. The Company has two flagship assets: the Palmer Project, a Volcanic Massive Sulfide (VMS) project in Alaska, under joint-venture partnership with Dowa Metals & Mining, owner of Japan's largest zinc smelter; and the Madison Project, a past-producing copper-gold project in Montana partnered with Kennecott Exploration, a division of the Rio Tinto Group. For the Madison transaction, American Pacific was selected as a finalist in both 2021 and 2022 for 'Deal of the Year' at the S&P Global Platts Global Metals Awards, an annual program that recognizes exemplary accomplishments in 16 performance categories. Also, in American Pacific's asset portfolio are three high-grade, precious metals projects located in key mining districts of Nevada, USA: the Ziggerat Gold project, partnered with Centerra Gold; the Gooseberry Silver-Gold project; and the Tuscarora Gold-Silver project. The Company's mission is to grow by the drill bit and by acquisition.
On Behalf of the Board of American Pacific Mining Corp.
"Warwick Smith"
CEO & Director
Corporate Office: Suite 910 – 510 Burrard Street Vancouver, BC, V6C 3A8 Canada
Investor Relations Contact:
Kristina Pillon, High Tide Consulting Corp.,
604.908.1695 / Kristina@americanpacific.ca
Media Relations Contact:
Adam Bello, Primoris Group Inc.,
416.489.0092 / media@primorisgroup.com
The CSE has neither approved nor disapproved the contents of this news release. Neither the CSE nor its Regulation Services Provider (as that term is defined in the policies of the CSE) accepts responsibility for the adequacy or accuracy of this release.
Photos accompanying this announcement are available at
https://www.globenewswire.com/NewsRoom/AttachmentNg/acb754e9-5be2-42e1-bb58-ea1241605569
https://www.globenewswire.com/NewsRoom/AttachmentNg/c21f89d8-9866-4442-ad43-1302589db333