More than 3 million people went through TSA checkpoints over the weekend, including a record 1.05 million on Sunday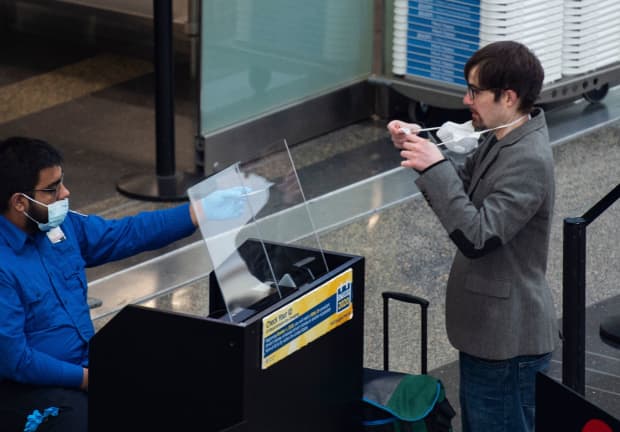 Shares of air carriers were broadly higher Monday, following the busiest travel weekend in eight months and more good news on a potential COVID-19 vaccine.
The U.S. Global Jets exchange-traded fund
JETS,
+1.44%
rallied 1.5% in morning trading toward the highest close in five months, while the Dow Jones Transportation Average
DJT,
+0.72%
climbed 0.7% with all six of its air-carrier components gaining ground.
Among the most active in the sector, shares of American Airlines Group Inc.
AAL,
+3.86%
rose 4.1%, United Airlines Holding Inc.
UAL,
+2.46%
advanced 2.7% and Delta Air Lines Inc.
DAL,
+2.98%
hiked up 3.0%.
Data provided from the Transportation Security Administration (TSA) showed that 3,052,139 people went through TSA checkpoints over the three days through Sunday, despite calls from top health officials refrain from traveling for Thanksgiving as COVID-19 cases surge. That's the most people to travel over a weekend since 4.7 million people traveled over the three days ending Sunday, March 15.
Also read: U.S. coronavirus case tally tops 12 million amid growing fears that Thanksgiving travel will spark another surge of infections.
Over 1 million people traveled on both Friday and Sunday, with Sunday's total of 1,047,934 the highest one-day total since 1,257,823 people traveled on March 16.
Not only are more people traveling, they appear to be paying more to do so.
Analyst Helane Becker at Cowen said her research indicates that fares of the domestic routes she tracks for American, Delta and United for the week ended Nov. 16 were up 5.2% from the same period a year ago.
Get Breaking Stock Alerts
Stay informed of the biggest news on stocks so you can react before 90% of retail investors.
Elsewhere, shares of JetBlue Airways Corp.
JBLU,
+0.89%
gained 0.9%, Alaska Air Group Inc.
ALK,
+1.90%
rose 1.6%, Southwest Airlines Co.
LUV,
+0.19%
edged up 0.1%, Spirit Airlines Inc.
SAVE,
+2.11%
tacked on 1.9% and Hawaiian Airlines parent Hawaiian Holdings Inc.
HA,
+1.93%
rallied 1.7%.
Also helping bolster airline investor enthusiasm, U.K.-based drugmaker AstraZeneca PLC
AZN,
-3.13%
AZN,
-3.48%
said Monday that the COVID-19 vaccine candidate it was developing with the University of Oxford showed in Phase 3 trials that it can be as much as 90% effective.
That is the third vaccine candidate to show high levels of efficacy, following those of Pfizer Inc.
PFE,
-1.21%
and BioNTech SE
BNTX,
+2.80%
last week and of Moderna Inc.
MRNA,
+2.57%
the week before.
The Jets ETF has rallied 26.7% over the past three months, but has still shed 33.1% year to date. In comparison, the S&P 500 index
SPX,
+0.01%
has gained 4.8% the past three months and advanced 10.2% this year.