The game is afoot, as Florida Gov. Ron DeSantis officially kicked off his White House bid on Wednesday — and immediately drew jeers from former President Donald Trump and other Republican rivals for his glitch-filled launch on Twitter.
See: Ron DeSantis campaign announcement in Twitter Spaces session with Elon Musk plagued by technical glitches
So what are the polls looking like in the 2024 GOP presidential primary?
As shown in the chart below, Trump is getting the support of about 54% of Republican or Republican-leaning voters, according to a RealClearPolitics moving average of surveys.
That puts the 45th president almost 33 points ahead of DeSantis, who is at 21%.
Other contenders are far behind the two Floridians, with former Vice President Mike Pence — who has not officially entered the race — and Nikki Haley, the former U.S. ambassador to the UN, each getting around 5% support.
Entrepreneur Vivek Ramaswamy is at about 3%, and there is 2% support for Sen. Tim Scott of South Carolina, who formally launched his campaign on Monday.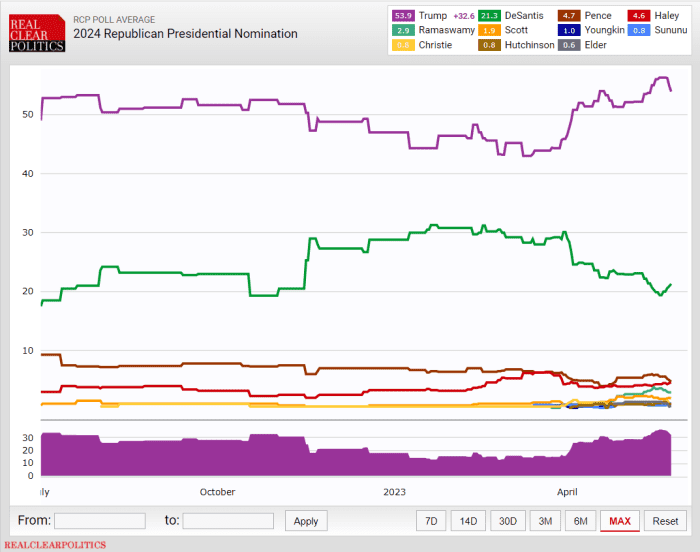 In a similar vein, betting market PredictIt gives Trump the best chance of becoming the GOP nominee, putting his odds at 59% vs. 30% for DeSantis, 7% for Scott and 5% for Haley. To be sure, betting markets are not that reliable as a predictor, having whiffed on the 2022 midterm elections wrong.
The first official debate of the GOP presidential primary is slated to be held in Milwaukee in August.
At this stage in the 2016 Republican primary — meaning in late May 2015 — former Florida Gov. Jeb Bush was leading in the polls, with Sen. Marco Rubio and Scott Walker, at that time Wisconsin's governor, essentially tied for second. Trump took the lead in the polls in late July after announcing his run in a mid-June event that featured his famous ride down an escalator at Trump Tower.
While DeSantis's launch event on Wednesday was widely mocked, one Republican strategist defended the governor's effort.
"There are dozens of candidates who have tried and failed to go head to head with Trump running a conventional campaign – I worked for one," tweeted Eric Wilson, who led Rubio's digital team in 2016. "Beating him is going to take risks, not playing it safe with the standard template."
"I would guess all of this attention brings in more signups and dollars than if they had done the usual video launch + rally. No experts rated the golden escalator Trump announcement a success but it was effective," Wilson added.
Now read: As DeSantis launches his campaign, here are the Republicans running for president in 2024