Nvidia Corp. executives predicted record revenue well beyond anything the company has experienced Wednesday, pushing shares toward all-time highs, as margins improve with AI-driven data-center sales.
Nvidia NVDA, -0.49% guided for second-quarter revenue of $11 billion, plus or minus 2%; the chip maker has never before reported quarterly revenue higher than $8.29 billion, which it hit in the fiscal first quarter a year ago. Analysts on average were expecting $7.17 billion, according to FactSet, a gain from the $6.7 billion in sales Nvidia put up in the fiscal second quarter last year.
See: Nvidia barrels toward rare $1 trillion valuation after putting a dollar figure on AI boost
On a conference call with analysts, Nvidia Chief Executive Jensen Huang said the simple way to think about it is that the world has "a trillion dollars of data center installed and it used to be 100% CPU," or central processing units, as opposed to Nvidia's graphics processors that data centers and AI models have embraced in recent years. And while the world's data-center budget is strapped, at the same time larger and larger AI models require more and more computing power, he said.
"The easiest way to think about that is over the next four or five, 10 years, most of that trillion dollars, and compensating adjusting for all the growth in data center still, it will be largely generative AI," Huang said.
"What happened is, when generative AI came along, it triggered a killer app for this computing platform that's been in preparation for some time," he added.
The company forecast adjusted gross margins of 70% plus or minus 50 basis points for the second quarter, after reporting 66.8% for the first quarter, which was down from the year-ago quarter's 67.1%, as stronger sales of higher-margin data-center products counter the sales drop in lower-margin gaming chips.
Back when shares were struggling in the mid-$100s three quarters ago, Nvidia was not only dealing with how to salvage about $400 million in data-center sales to China blocked by U.S. national security concerns, but was spending billions of dollars clearing inventory to prep for the launch of its next generation "Ada Lovelace"-architecture. Nvidia Chief Financial Officer Colette Kress told analysts on the call late Wednesday: "We believe the channel inventory correction is behind us."
One of the reasons data-center products are higher margin has a lot to do with how much Nvidia's software ecosystem is required for the hardware that run exponentially growing AI models, Kress told MarketWatch in an interview. Not only do data-center GPUs require Nvidia's basic software, but Nvidia plans to sell enterprise AI services, along with creative platforms like Omniverse, to begin making money on the AI arms race quickly.
"There's two things to think about," Kress told MarketWatch. "The software, being a provider, but also the amount of performance and performance improvement for the total cost you must incur to do these types of workloads," Kress told MarketWatch.
Regarding the $1 trillion in data-center infrastructure that is CPU-based, Huang hopes to fully accelerate that installed base with GPUs in about five years, to accommodate growing AI workloads.
Nvidia shares soared more than 25% in after-hours trading, following a 0.5% decline in the regular session to $305.38. Nvidia's record closing price is $333.76 and the all-time intraday high is $346.47, according to FactSet data. After-hours "prices" topped both of those marks, reaching more than 14% beyond all-time highs for the regular session, as shares registered as high as $395, according to FactSet. The last time Nvidia shares rallied as much in a single session was Nov. 11, 2016, when shares surged 29.8% after the company reported that profit more than doubled.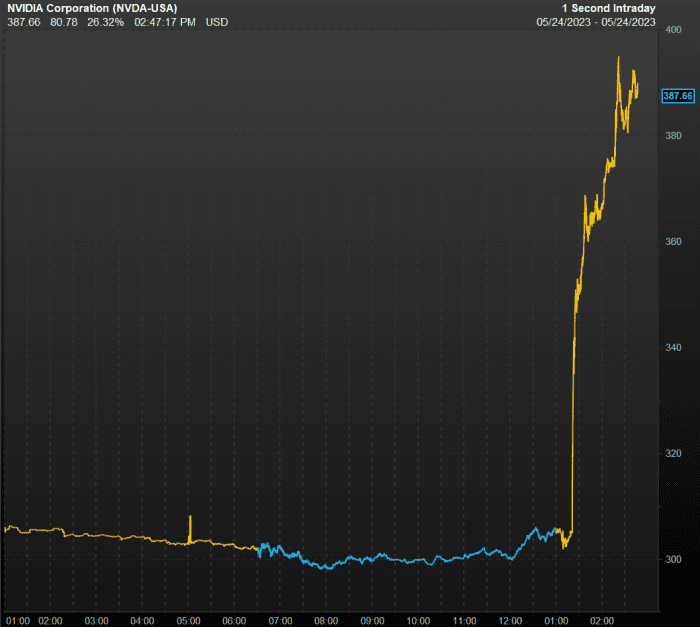 Meanwhile, shares of rival Advanced Micro Devices Inc. AMD, +0.14% rallied 6% after hours.
Nvidia did not provide full-year guidance, but Huang has been effusive in his predictions that increased focus on AI from Big Tech partners such as Microsoft Corp. MSFT, -0.45% and Alphabet Inc. GOOGL, -1.35% GOOG, -1.34% will lead to revenue gains in the near future. Speaking to the media at Nvidia's developers conference in March, he said that generative AI has only accounted for a "tiny, tiny, tiny" single-digit percentage of revenue over the past 12 months, but predicted that in the next year, revenue from generative AI will grow to be "quite large — exactly how large, it's hard to say."
Nvidia reported fiscal first-quarter earnings of $2.04 billion, or 82 cents a share, on sales of $7.19 billion, a decline from $8.29 billion a year ago but well ahead of expectations. After adjusting for stock compensation and other effects, the chip maker reported earnings of $1.09 a share, a decline from $1.36 a share a year ago. Analysts on average were expecting adjusted earnings of 92 cents a share on sales of $6.53 billion, according to FactSet.
Gaming sales for the first quarter fell 38% to $2.24 billion, while data-center sales at Nvidia rose 14% to a record $4.28 billion, "led by growing demand for generative AI and large language models using GPUs based on our Nvidia Hopper and Ampere architectures."
"The revenue growth reflects strong demand from large consumer internet companies and cloud service providers," the company said in a statement. "Enterprise demand for GPU platforms was strong, although general purpose networking solutions declined both sequentially and from a year ago."
Analysts had expected gaming sales of $1.97 billion — nearly half of last year's $3.62 billion — and data-center sales of $3.9 billion, a 4% increase from a year ago. Auto chip sales soared 114% to $296 million from a year ago.
Nvidia's profit and sales have declined in recent quarters as the company deals with oversupply in the market, a result of pandemic-era shortages flipping to a glut after demand for personal computers and gaming gear waned. Analysts expect that trend to end with this report, however, as demand for gear that can power artificial intelligence kicks into higher gear amid a bevy of promises from tech companies about the power of generative AI.
Nvidia's stock has soared toward all-time highs amid the hype for generative AI, which was launched after the successful debut of OpenAI's ChatGPT service. Shares have more than doubled so far this year, growing 109% as the S&P 500 index SPX, -0.73% has increased 8%.