Investment flows into the U.S. financial market have been weaker than the S&P 500 index returns over the past two months, suggesting a headwind for equities over the coming weeks, said analysts at Goldman Sachs.
The S&P 500 SPX, -0.70% return has been 7% stronger than investment flows in the past few months, said a team of Goldman Sachs' analysts led by John Marshall, head of derivatives research, citing their model which tracks the investment flows and their relationship with equity returns (see chart below).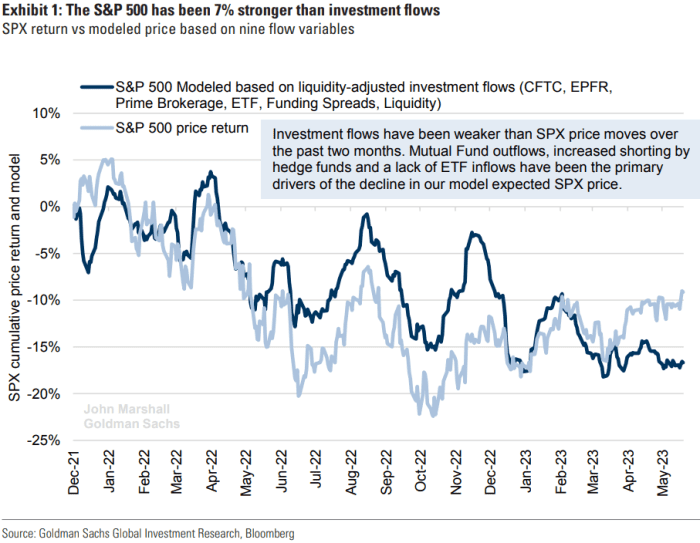 "Our analysis shows S&P 500 daily returns are positively correlated with flows. When SPX returns and flows deviate, they tend to mean-revert in subsequent periods," wrote analysts in a Monday note.
The model is designed to explain the daily returns of the S&P 500 using investment flows or proxies for investment flows that occurred on the same day, and to understand the gap between equities performance and flows.
However, Marshall and his team found investment flows have been weaker than the S&P 500's price moves over the past two months, driven by outflows from the mutual funds and increased shorting by hedge funds. Meanwhile, ETF inflows, which were a powerful driver of equity upside in past years, have also "slowed significantly" over the past few months and haven't been large enough to offset recent outflows from other investor types, said Marshall.
Goldman Sachs analysts see an 18% probability the S&P 500 trades down more than 5% over the next month.
See: 4 reasons the stock market keeps climbing in 2023 as S&P 500 attempts another push above 4,200
The S&P 500 has advanced 5.6% over the past two months after concerns about the strength of the banking sector eased and the Federal Reserve hinted that the monetary tightening cycle is nearing an end. However, the large-cap index still looks stuck in a tight trading range as it failed to hold above the key 4,200 level after briefly pushing above it last week, according to FactSet data.
The S&P 500 was trading at 4,160 points on Tuesday afternoon, while the Dow Jones Industrial Average DJIA, -0.27% was dropping 125 points, or 0.4%, to 33,161 and the Nasdaq Composite COMP, -0.83% was off 0.9%.