"If It's a New Bull Market, It's Unlike Any We Have Seen in Last 30 Years"
That's the heading of a note published over the weekend from BTIG's technical strategist Jonathan Krinsky.
He's been a skeptic of the market's rally in recent months, and the latest surge, which saw the Nasdaq 100 QQQ, -0.23% hit a 13-month peak and its relative strength index move above the 70 mark that signals overbought territory, has provided more ammunition for his bearishness.
Krinsky crunched the numbers over time on the Russell 3000 RUA, -0.23% — a barometer that represents 98% of U.S. equities — and since it hit the October 2022 low some 150 sessions ago, and found a problem with what's known as market breadth.
"Of the nine meaningful drawdowns since 1995, the average percentage of Russell 3000 stocks trading above their 200-day moving average at the 150-day mark post the bottom was 70% (min 56%, max 88%)," Krinsky wrote.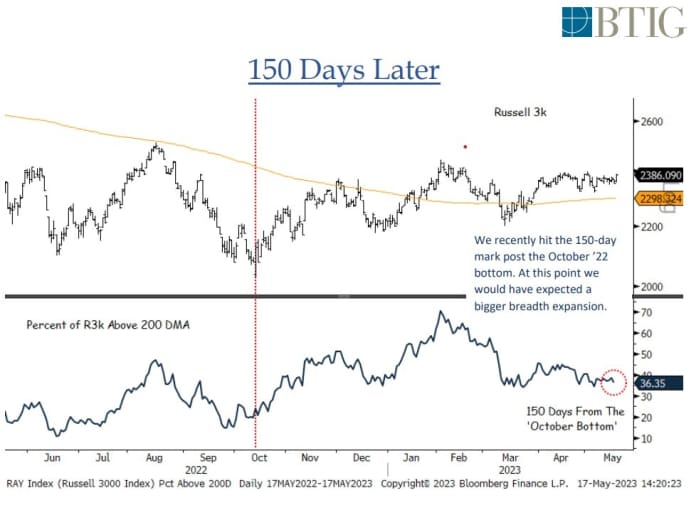 This time the average percentage trading above their 200-DMA was just 36%. That's by far the "weakest breadth this far off a major bottom of any new uptrend over the last 30 years [or so]."
The market needs to see small caps break out through the top of their multi-month range to a "meaningful breadth expansion," he adds.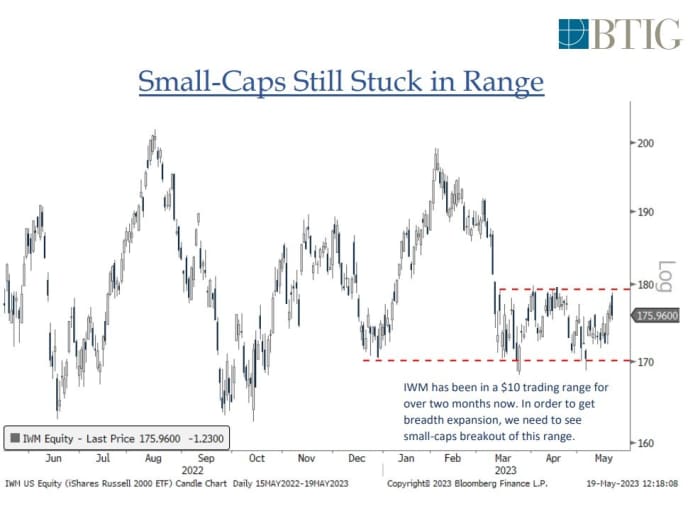 Krinksy also argues that much of the market's gains for the year — the S&P 500 SPX, -0.14% is up 9.2% — may have been secured, contrary to expectations at the start of 2023.
"[W]e heard many forecasts that the first part of '23 would be difficult, and then we would see a back-half recovery. The irony is that's kind of what happened last year. So far this year has been the opposite for the SPX, and we think the rest of the year becomes more difficult from here."
He also notes that the composite equity option put/call ratio has dipped to the lowest reading since February, "suggesting some complacency creeping back in."