Skip the jet lag and overnight flights: there are places right here in North America whose architecture and ambience will transport you to Europe in the twinkling of an eye. Here are four places to explore.
Leavenworth, Wash.
Like a small town in Bavaria, half-timbered buildings, carved wooden balconies, murals painted on building facades (a folk craft called luftlmalereien), and German food served by waitresses in folk costume abound in Leavenworth, a small town a 2.5 hour drive east of Seattle. Nestled against a backdrop of snow-capped mountains in winter, when over 500,000 lights adorn trees and buildings, it's postcard-perfect. In spring and summer, window boxes are crammed with flowers. In fall, trees that turn crimson and orange.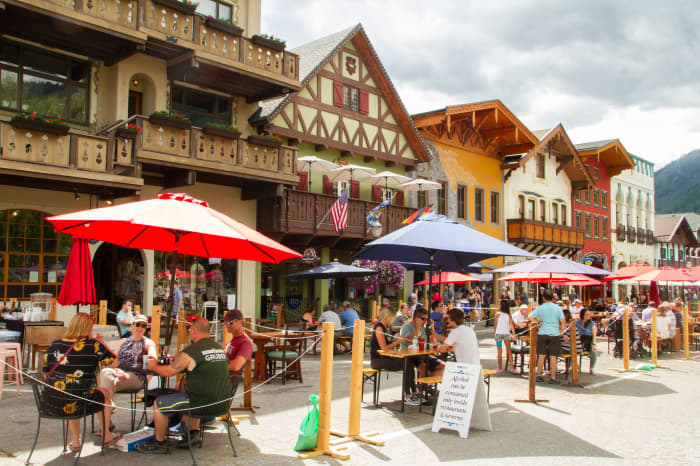 You'll think you're in the Alps when you spot Pension Anna, where carved wood balconies adorn the facade, floral-painted wood armoires stand in hallways and some guest rooms, and a breakfast of cold cuts, cheese and hazelnut and fruit jams is served in a cozy wood-paneled room decorated with Bavarian landscape photos and cowbells with beaded leather straps. Ditto for the Enzian Inn, where guests are serenaded by an alpenhorn at breakfast; floral-painted carved wooden beds and a fireplace are in all suites. The lobby has a stone wood burning fireplace, view of an outdoor heated pool and two hot tubs and a 1786 floral-painted Austrian hope chest.
At Andreas Keller, a rathskeller with a muraled interior and an accordionist at night, pork schnitzel Cordon Bleu, stuffed with ham and Swiss cheese, and the sausage platter are favorites. A large upstairs terrace with "fire tables" and a scenic view of the town is a choice place to dine on sausages and beer at Rhein Haus. The town of 2,300 people has dozens of shops, including Ganz Klasse, a home goods and gift shop featuring many imports, almost 20 wine and cider tasting rooms and a Nutcracker Museum, whose over 7,000 nutcracking devices include some centuries old.
Be sure to read: Summer travel will be more crowded, but there's good news, too. Here's how to plan for the throngs.
Scandinavia in Wisconsin's Door County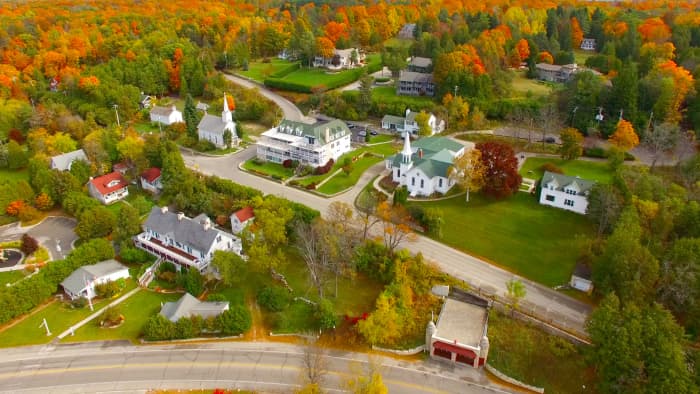 Pancakes with lingonberries, folk crafts like red wooden Dala horses (a Swedish craft with 17th-century roots) and rosemaling (a colorful stylized floral painting style) and a shop selling Nordic clothing, home goods and books on hygge at Al Johnson's Swedish Restaurant in Sister Bay conjure up Scandinavia. So does the replica of a 12th-century Norwegian wooden stave church, the Stavkirke, whose six-tiered shingled roofs end in open-mouthed dragons. Bjorklunden, a lakeside campus for weeklong seminars in Baileys Harbor, has murals depicting Norse myths, and small carved wood Viking ship motifs in its stave church-inspired chapel.
Thick forests and snow in winter add to the Nordic illusion in these small towns between Lake Michigan and Green Bay in Door County, settled by immigrants from Scandinavia starting in the 1840s.
You'll find a wonderful collection of rosemaling at Binkhaven, a private home on a 12-acre estate in Ephraim, open for monthly tours June to October. Here, ceilings, roof beams and some furnishings were painted by Norway's best-known rosemaling artist, Sigmund Aarseth, while cabinets, bowls and other objects were rosemaled by other Nordic Revival artists.
Also see: For many Americans, 'revenge travel' may become 'regret travel'
Quebec City, Canada
A majestic castle-like hotel perched on a cliff top, massive stone fortifications, small stone houses with gabled roofs and large chimneys, and French you hear everywhere: rub your eyes, because you'll think you're in France. A 1.5 hour flight from New York City, Quebec City is the oldest French settlement in North America, founded in 1608, and the only walled city north of Mexico. Its Old Town, a Unesco World Heritage site, has an Upper Town ringed by stone ramparts, reached by steep streets and stairways from the Lower Town.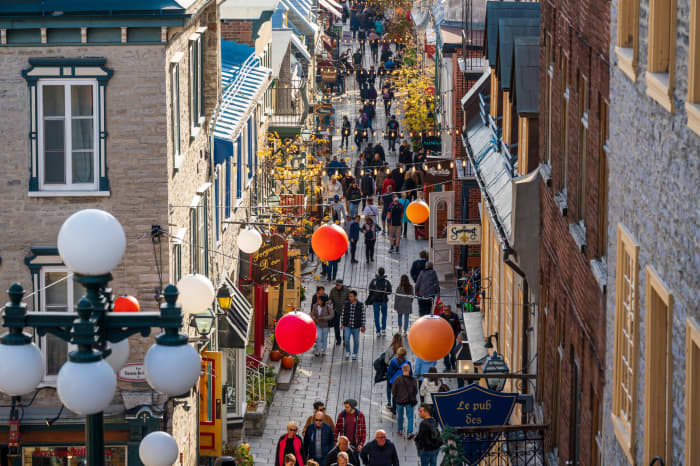 In winter, walking Petit-Champlain, a cobblestone street of small quaint shops and cozy restaurants with illuminated Christmas trees in front (and that castle-like hotel looming above, the Fairmont Le Chateau Frontenac), is simply magical. No surprise it's called one of the prettiest streets in Quebec City. In the Old Port section, the Rue Saint-Paul, thronged with antique shops galleries and cafes, is another charmer.
In warm weather, Quebec City is packed with sidewalk cafes, and a scenic place to stroll is the Dufferin Terrace, a wooden boardwalk next to the Fairmont which overlooks the St. Lawrence River. The terrace is the site of a toboggan slide in winter, when the 10-day Carnaval de Quebec is marked by day and night parades with whimsical floats, snow and ice sculptures, and activities for all ages.
You might like: Escaping abroad: Here's what you need to know before buying a second home in another country
Is this Denmark? Solvang, Calif.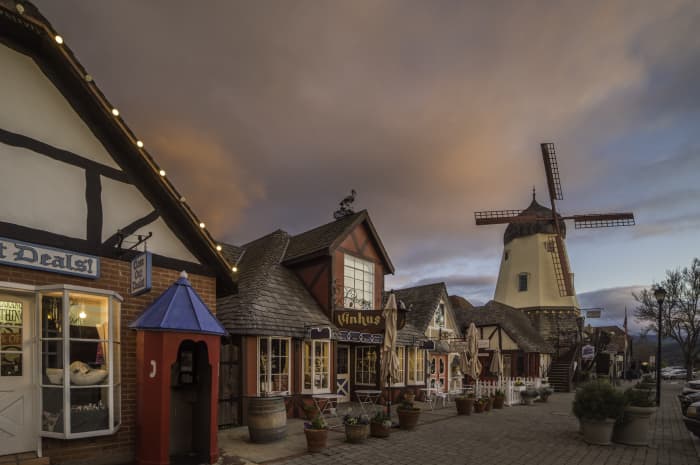 A slice of Denmark transplanted to southern California (but much sunnier and with more wine tasting rooms), Solvang is a small town of under 6,000 people 35 miles north of Santa Barbara in the Santa Ynez Valley, immortalized in the movie "Sideways." Danish-style architecture, windmills and bakeries fill the town, founded by Danish immigrants in 1911. The "Little Mermaid" fountain is a replica of Copenhagen's famous statue, and the Hans Christian Andersen Museum is devoted to the Danish writer of fairy tales. A museum, the Elverhoj Museum of History & Art, explores the history of the "Danish Capital of America" and Denmark's heritage.
Also see: 'An out-of-body experience': The 2024 North American eclipse is shaping up to be the biggest 4-minute show of the decade
Snack on Kringles, which are pretzel-shaped pastries with almond paste and custard fillings, and Cinnamon Crisps, round puff pastries with generous amounts of cinnamon, at Birkholm's Bakery & Cafe, a third-generation family-owned Danish bakery founded in 1951, and Olsen's Danish Village Bakery, opened in 1970. Aebleskivers, pancake balls doused with powdered sugar served with raspberry jam, are the specialty at Solvang Restaurant.
The walkable town, which boasts over 150 shops and about 20 wine tasting rooms, holds events like Danish Days in September, featuring costumed folk dancers, live music, axe-throwing contest and an artisan market, and Julefest in December. One of many half-timbered buildings houses Mirabelle Inn, a luxury inn of 13 rooms furnished with antiques, most with gaslit fireplaces.
This article is reprinted by permission from NextAvenue.org, ©2023 Twin Cities Public Television, Inc. All rights reserved.
More from Next Avenue:
Sharon McDonnell is a San Francisco-based travel and food/beverage writer who's whale-watched in the Azores, ridden a camel in Morocco, seen the Northern Lights in Alaska and taken cooking classes from India to Thailand.
Editors Recommendations