U.S. stocks were mostly higher Monday afternoon, supported by a bounce in banking-sector shares, as investors monitored efforts to resolve a U.S. debt-ceiling standoff ahead of a potential default.
How stocks are trading
The Dow Jones Industrial Average DJIA, +0.04% was little changed, down by barely 1 point at 33,300, after swinging between gains and losses.
The S&P 500 SPX, +0.22% edged up 6 points, or 0.1%, at 4,130.
The Nasdaq Composite COMP, +0.60% rose 61 points, or 0.5%, to 12,346.
The S&P 500 fell 0.3% last week, while the Dow dropped 1.1%. The S&P 500's decline was cushioned by megacap tech-related stocks, which also helped lift the Nasdaq Composite out of a bear market. The Nasdaq gained 0.4% last week.
In One Chart: The S&P 500 is top-heavy with tech. Here's what that says about future stock-market returns.
What's driving markets
Worries about a technical government-debt default continued to restrain bulls over the earlier part of Monday's trading session — keeping stocks from a breakout of their recent ranges, despite a generally well-received earnings season and signs of easing inflation that may allow the Federal Reserve to halt rate hikes.
"Right now, markets are firmly in wait-and-see mode," Edward Moya, a senior market analyst for the Americas at OANDA, said via phone. "Everyone knows the debt-ceiling debate will go down to the wire, and we're going to see regional banks remain a focal point for the next several quarters."
Meanwhile, "what is interesting to see is that we are still getting hawkish pushback from the Fed on the market's view that policy makers are done with tightening," Moya said. With stagflation risks still on the table, any incoming inflation data which shows pricing pressures remaining sticky will make "markets grow nervous that the Fed will keep rates higher for longer," and cause traders to bring down rate-cut bets for later this year.
See: The stock market will struggle to rally until these 2 big fears are put to rest
Helping to give stocks a lift on Monday were shares of major and regional U.S. banks. Big banks performed well in the first quarter despite recent "gut-wrenching volatility" in banking-related shares, according to a Sunday note from KBW analyst David Konrad. KBW reiterated its outperform ratings on Morgan Stanley MS and Goldman Sachs Group GS, which rose 1.1% and 1%, respectively, alongside shares of their rivals.
The SPDR S&P Regional Banking ETF
was up 3%.
Also on Monday, investors and traders weighed competing assessments of the debt-ceiling negotiations.
President Joe Biden said a second round of talks between the White House and congressional leaders appeared set for Tuesday. Biden told reporters in Rehoboth Beach, Del., on Sunday that he remains "optimistic" and "there's a desire on their part as well as ours to reach an agreement — I think we'll be able to do it."
On Monday, though, House Speaker Kevin McCarthy, R-Calif., said the White House and congressional Republicans remained "far apart."
Read: Here's where investors may turn to 'hide' as U.S. debt-ceiling deadline looms based on 2011 market reaction
Describing the remarks by Biden and McCarthy as "competing cross currents," Jay Hatfield, chief executive of Infrastructure Capital Advisors in New York, said the debt-ceiling debate is "clearly an overhang on the market."
Still, Hatfield said via phone, "we remain bullish on the market" on the view that "once we get through June and into July, we will have a debt-ceiling resolution one way or another and the data will be obvious for the Fed that CPI [consumer-price index] and PPI [producer-price index] inflation are coming down."
Infrastructure Capital Advisors currently expects June's data to show annual headline rates of 3.5% for the CPI and 0.9% for the PPI — down from 4.9% and 2.3%, respectively, in April. In addition, "we believe the fundamentally flawed Fed is going to figure out inflation has peaked and will tone down its hawkish rhetoric," Hatfield said.
Monday's data releases showed the New York Fed's Empire State business-conditions index, a gauge of manufacturing activity in the state, plunged 42.6 points in May to negative 31.8. Economists had expected a reading of negative 5, according to a survey by The Wall Street Journal. Any reading below zero indicates deteriorating conditions.
Atlanta Federal Reserve Bank President Raphael Bostic said on Monday that he would like to see the central bank pause its cycle of rate hikes to gauge the health of the economy.
"I think the appropriate policy is really to just wait and see how much the economy slows from the policy actions that we've done," Bostic said in an interview on CNBC.
U.S. stocks rank as the third best-performing asset of the year so far, behind gold and European equities, out of a dozen selected assets monitored by BlackRock Investment Institute.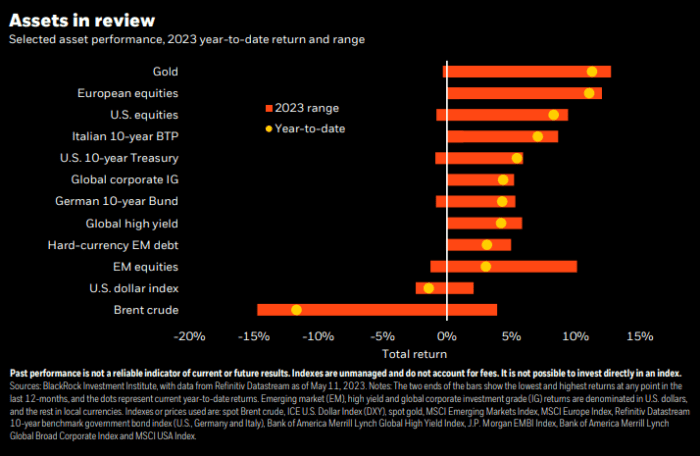 Check out: Paul Tudor Jones says stocks likely to finish 2023 higher because Fed is done hiking rates
Companies in focus
Shares of Newmont Corp. NEM, +2.73% rose 3% after the company agreed to buy Australian gold and copper producer Newcrest Mining Ltd. NCM, +1.52% for $17.5 billion.
Oneok Inc. OKE, -8.30% shares fell 8.2% after the company agreed to buy Magellan Midstream Partners LP MMP, +13.99% for $18.8 billion in cash and stock, which is a 22% premium to Friday's close.
3M Co. MMM, +0.17% said Monday it has fired Michael Vale, group president and chief business and country officer, for cause. The dismissal is due to "inappropriate personal conduct and violation of company policy, unrelated to the company's operations and financial performance," the company said in a brief statement. Shares of the diversified industrial company and Dow component were up 0.5%.
Earnings Watch: Executives are less worried about inflation. Walmart and Target earnings could disagree
— Jamie Chisholm contributed to this article.