Stock-market bulls rode a sizable rally into the start of what's expected to be a downbeat earnings season. Analysts at Jefferies say that's not encouraging for the near-term outlook, but doesn't portend disaster, either.
"Whether you believe recent performance has been warranted or not, there's one thing that isn't debatable: equities have rallied hard right into earnings. In fact, the [roughly] 7.5% gain during the month of trading into Friday was the largest such rally since [the first quarter of 2009] when stocks marked the bottom of the [great financial crisis]," they said in a Saturday note. In fact, the gain for the S&P 500 SPX, -0.01% in the month through Friday was the third largest since 1999.
JPMorgan Chase & Co. JPM, -0.53% and other big Wall Street banks unofficially kicked off earnings season on Friday.
"It does set the hurdle for stocks in a bit of a funny place," the analysts wrote.
Funny how?
They noted that earnings revisions heading into any quarter have historically seen Wall Street analysts lower the bar by an average of 70 basis points. Perhaps unsurprisingly, analysts have produced bigger downside revisions at 80 basis points. That means earnings expectations have deteriorated more than usual, while stocks have rallied more than usual.
So now what?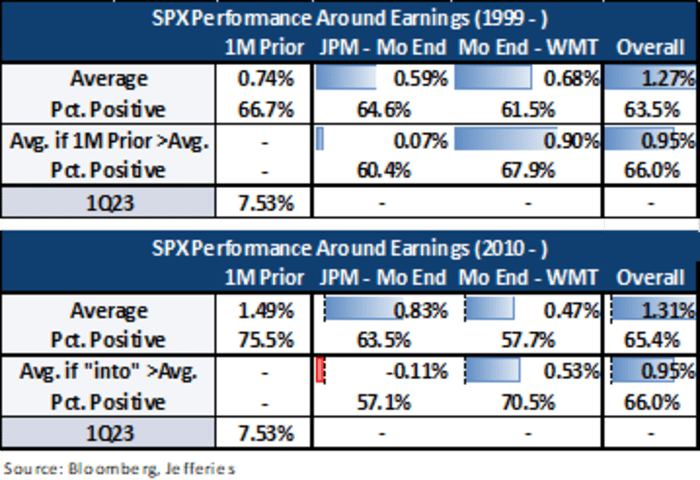 "Interestingly, the two larger rallies were ahead of [the first quarters of 2001 and 2009], a bear market rally and the start of a decade-plus bull market," the analysts wrote. "That said, and contrary to what you might think, it isn't necessarily that bad of a sign. When the [S&P 500] rallies more than typical into earnings, it does tend to bring flat trading over the next several weeks. However, it also tends to coincide with better performance in the back half of earnings … leading to just slightly worse than average [S&P 500] performance vs. the typical earnings season."
While the chase higher "may not continue, we also won't necessarily see a stunning reversal" as earnings roll in, they said.
The first-quarter earnings-reporting season picks up steam this week, with 60 S&P 500 companies, including six components of the Dow Jones Industrial Average DJIA, +0.06%, reporting quarterly results, according to FactSet. Those companies will report as Wall Street analysts remain pessimistic about results for the quarter and the prospect of another so-called earnings recession in which profits contract for at least two straight quarters.
Read: Tesla, Netflix earnings due: Cheaper cars, cheaper content, more workout videos, as 'earnings recession' seems likely
Stocks nudged higher in early trade Monday, with the Dow up 44 points, or 0.1%, while the S&P 500 ticked up 0.1%.