Michael Jordan stays on top.
The shoes Jordan wore during Game 2 of the 1998 NBA Finals, his last season with the Chicago Bulls, sold at a Sotheby's auction on Tuesday for $2.2 million including fees, a record price for any pair of sneakers, ever.
The previous record price for a pair of shoes was for $1.8 million. Those shoes were a prototype model of a Nike Air Yeezy, which were designed by artist Kanye West.
The record-breaking sneakers, a pair of Jordan XIII's that were also signed by the basketball legend, were worn by Jordan during his last playoff series with the Bulls during the famous "Last Dance" season that was featured on an award-winning documentary.
The sneakers are known as "Bred" for their black and red colors, a color scheme Jordan wore throughout his career across all his shoe models.
"Today's record-breaking result further proves that the demand for Michael Jordan sports memorabilia continues to outperform and transcend all expectations," Brahm Wachter, Sotheby's head of streetwear and modern collectables, said in a statement.
See also: LeBron James vs. Michael Jordan: who is the GOAT when it comes to net worth?
"Sotheby's is extremely proud to hold the world record for most valuable game-worn sports memorabilia at auction and the most valuable sneakers ever sold, both of which — to no surprise — are directly tied to the global icon, Michael Jordan," Wachter continued.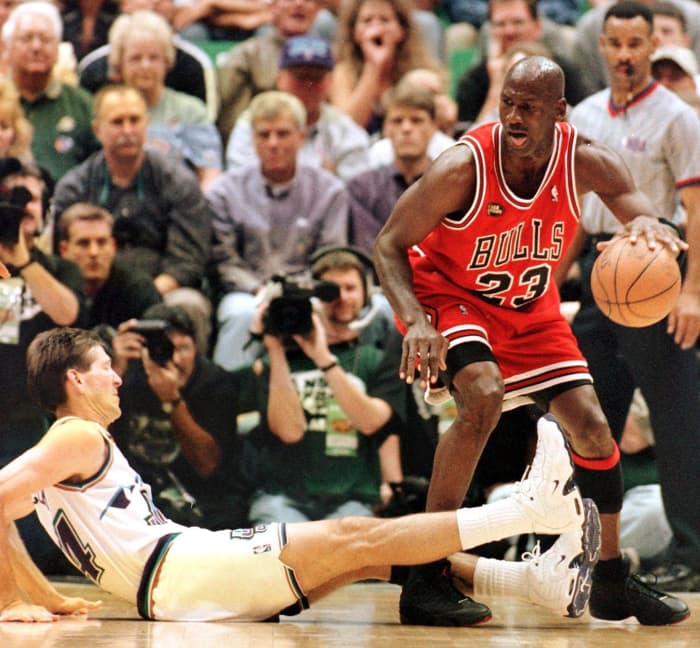 In the game that Jordan wore the record-breaking shoes, the Hall of Famer had 37 points, 5 rebounds and 3 assists, leading the Bulls to a 93-88 victory over the Utah Jazz.
Shortly after the ESPN documentary debuted in May 2020, average one-day sales for Chicago Bulls items spiked a staggering 5,156% over the previous month. Searches for Jordan autographed basketballs and Jordan trading cards also spiked by over 50% during that period.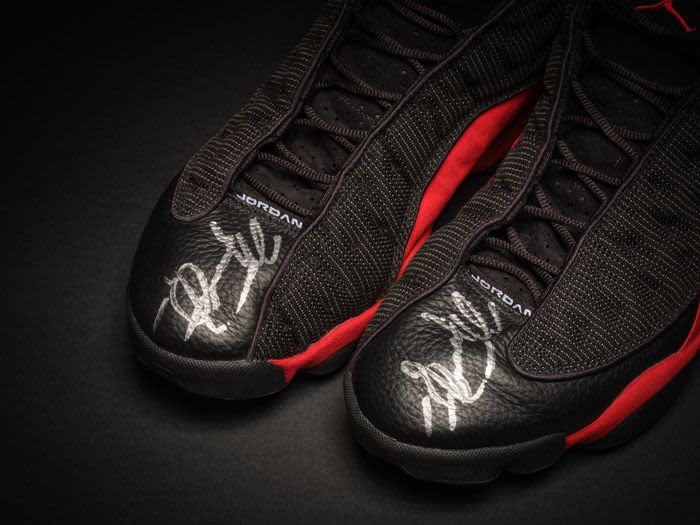 Last September, a jersey worn by Jordan in Game 1 of that same 1998 NBA Finals was sold at a Sotheby's auction for over $10 million — the most expensive sports memorabilia item sale ever.
See also: NBA All-Star Chris Paul on what he looks for in an investment, competing with LeBron James, and his favorite possession
Despite being retired for over 20 years, Jordan's influence on sneaker culture continues as the Air Jordan shoes and apparel line continues to be a mainstay in athletics. Jordan himself makes a reported 5% from Jordan Brand's sales, which netted him $256.1 million last year, according to Front Office Sports.
Jordan has a net worth of $1.7 billion, according to Forbes estimates.
Tuesday's sale comes as the movie "Air," which chronicles how Nike NKE, +1.14% initially came to sign an endorsement deal with Jordan in 1984, has been released in the U.S. The film stars Matt Damon and Ben Affleck, and earned more than $14 million in its opening weekend.
Read on: Here's how much NFL Sunday Ticket will cost on YouTube TV this season