The U.S. and global economies are likely to struggle to grow over the next few years as countries fight to reduce high inflation and cope with rising interest rates, the IMF said Tuesday.
The latest projections paint a gloomy picture of the challenges facing the world. Chief among them is high inflation, a problem the IMF said has proven stickier than expected compared to "even a few months ago."
Price increases in goods and services other than food and gasoline are still high, the IMF said, and a tight labor market could keep upward pressure on wages.
Inflation globally is likely to average about 7% in 2023, up almost 1/2 point from the IMF estimate just three months ago.
The fund said inflation probably won't return to the low levels that prevailed around the world until "2025 in most cases." In the U.S., for example, inflation rose less than 2% a year in the decade before the pandemic.
Stubbornly high inflation, in turn, is likely to force the U.S. and other countries to keep interest rates high for some time.
"This may call for monetary policy to tighten further or to stay tighter
for longer than currently anticipated," IMF director of research Pierre-Olivier Gourinchas said.
Yet rising interest rates and higher borrowing costs also risk destabilizing financial institutions as witnessed by the failure of Silicon Valley Bank in the U.S. and the emergency rescue of Switzerland-based Credit Suisse.
Recent banking instability reminds us," Gourinchas said, "that the situation remains fragile."
"Once again, the financial system may well be tested even more," he added. "Nervous investors often look for the next weakest link, as they did with Crédit Suisse."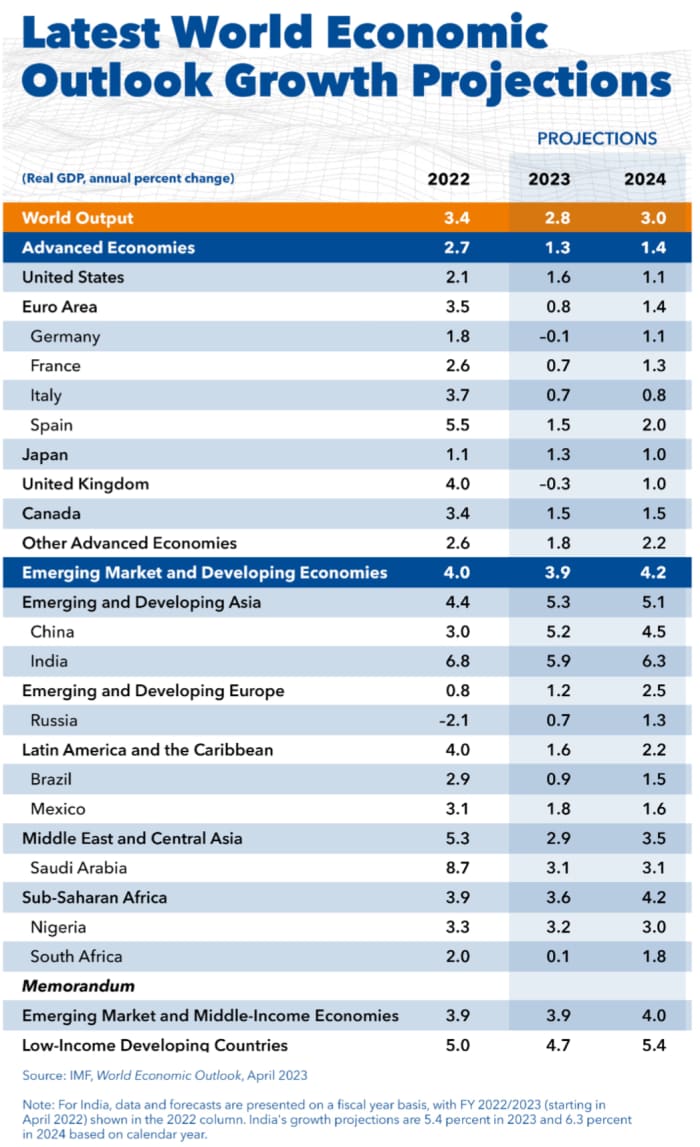 Threats to banks could add to the stress on the economy by spurring them to lend less to businesses and consumers. Lending is critical for economic growth.
"We are therefore entering a tricky phase during which economic growth remains
lackluster by historical standards, financial risks have risen, yet inflation has not yet
decisively turned the corner," Gourinchas said.
The U.S. economy is forecast to slow from 2.1% growth in 2022 to 1.6% in 2023 and 1.1% in 2024. Notably, the IMF does not predict a U.S. recession.
By contrast, the Federal Reserve predicts U.S. growth will slow to just 0.4% in 2023 and then rebound to a 1.2% annual pace in 2024.
Most countries in Europe are also expected to keep growing aside from the U.K. and Germany, whose economies have been harder hit by high energy prices.
The world economy is forecast to expand 2.8% in 2023 and 3% in 2024, a shade lower compared to the IMF's forecast in at the start of the year.
Looking out to 2028, global growth is forecast at 3%, the weakest five-year outlook since the IMF began publishing them 33 years ago.