NEW YORK — In the ever-dramatic world of opera, conflicts of all sorts play out behind the scenes. Singers make royal demands of management. Musicians push for better pay.
Deep in the bowels of New York City's Metropolitan Opera on a recent Saturday afternoon, a fight of a more literal sort broke out: a boxing match with punches aplenty, a few blistering taunts and even an eventual knockout.
The Met, as the organization is simply called, has been in rehearsal for the company premiere on Monday of "Champion," an opera by the Grammy-winning jazz artist Terence Blanchard that tells the story of Emile Griffith, a boxer who rose to fame more than a half-century ago.
The Met, known for its often lavish productions of classic works such as Verdi's "Aida," Wagner's "Lohengrin" and Puccini's "Turandot," is having to get gritty and stage an actual ringside spectacle, replete with all the usual boxing accouterments, from spit buckets to a booming MC giving the familiar "Ladies and Gentlemen" introduction.
Ryan Speedo Green, the bass-baritone who portrays the young Griffith, said a modern-day work like "Champion" speaks to his dream of debunking stereotypes when it comes to opera singers. "It's not just some Viking lady with a helmet and spear," he says.
Green, who admits to never having thrown a boxing punch in his life before prepping for "Champion," has spent the better part of the past year doing just that — and has worked with a trainer to learn how to execute the perfect right hook or left uppercut. Plus, he's adjusted his diet to suit a boxer's lean-and-mean regimen.
In the process, Green shed 60 or so pounds to a fighting weight of about 240 and developed a taste for foods such as salmon and green beans for the first time in his life.
"I never ate a vegetable before unless it was smothered in something," he says.
It turned out, trimming down also helped his singing. "It didn't really change my voice," he says, "but because my body changed, I was able to access more breath, which leads to all sorts of positive things about the voice…mostly that there's a more energized sound to pull from."
Yannick Nézet-Séguin, the Met's music director, calls the boxing work "a bridge between the traditional definition of opera and the realities of today." Contemporary operas such as "Champion" have won favor with a certain public that may not care for the classics, adds Peter Gelb, the Met's general manager.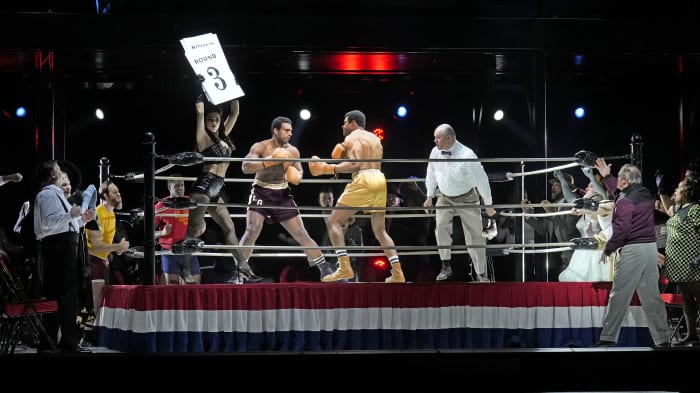 Gelb noted the Met's production of another opera by Blanchard, "Fire Shut Up in My Bones," sold out, and other recent works have done similarly well. It is a boon to a nonprofit company, with a roughly $300 million annual budget, that has sometimes faced difficulties drawing audiences since resuming performances after a pandemic shutdown. Next season, the Met will commit a third of its repertoire to contemporary opera — a far cry from the days when it might have presented a single new work at best.
"Champion," which has been staged by smaller companies before coming to the Met, shares something with the operas of yesteryear in that it is an emotionally charged story involving a tortured figure.
The U.S. Virgin Islands-born Griffith, who died in 2013 at the age of 75, was an unlikely boxing champion. He had once worked in a hat factory, and he faced rumors during his professional life that he was gay — something far from accepted in professional sports at the time, let alone the machismo-driven world of boxing.
Later in life, Griffith revealed he had sexual relations with men and women. "He no longer wanted to hide," said one newspaper columnist.
Griffith's career was defined by a single bout — when he went up against the Cuban-born boxer Benny Paret in 1962. Paret had taunted Griffith by using a gay slur. Whether that pushed Griffith to fight harder or not, he beat his opponent so severely that Paret died from his injuries 10 days later — something that was said to haunt Griffith for the rest of his life.
In "Champion," that ill-fated fight is a focal point. And it is one those involved in the production say they have worked on staging with genuine authenticity, beyond just Green's efforts at transforming himself to play Griffith.
Green has a boxing foe in Eric Greene, a baritone who is making his Met debut in the role of Paret. Eric Greene says he has also done his share of training to ready himself for the production, and recalls raising a few eyebrows during his boxing workouts when he explained the operatic reasons behind his regimen.
"It was definitely a topic of conversation" at the gym, he says.
The Met has brought in boxing consultant Michael Bentt, a former heavyweight champion, to help tighten the action and give it a more true-to-life look, although blows are staged in a way that no one gets hurt. Bentt also has been called upon to explain key boxing details, such as the ritual of having the referee sniff a boxer's gloves to detect any foreign substances.
In true boxing-coach style, Bentt says he didn't look to go easy on the singers. "I'm a taskmaster in the right spirit," he says.
The ring itself looks like the real deal. Set designer Allen Moyer concedes it is actually smaller than regulation size, though he says he made sure to use actual boxing ropes. Moyer also opted to have a lighter-colored canvas floor, so it worked better with theatrical lighting and gave the scene "a real zing," he says.
Met general manager Gelb says "Champion" comes in at the low end of the financial spectrum for a new production, which can typically run the company anywhere from $1.5 million to $3.5 million. (He didn't provide an exact figure for "Champion.")
The Met does have some roots in real boxing. In 1891, the Met played host to championship boxing — and wrestling — matches at its former home in New York City, according to company records.
Gelb says he wasn't aware of the Met's history as a genuine venue for professional fighting more than a century ago. He didn't see the likelihood of an encore.
"There's always plenty of dramatic action at the Met onstage and offstage. We try to draw the line at boxing," he says.