Traveling this summer may require a lot of patience and grit as the aviation industry tries to keep up with demand.
After an epic meltdown last summer, many travelers may be emotionally prepared for another tumultuous travel season up ahead.
"It's gonna be the summer of discontent for air travel," Robert W. Mann Jr., an airline industry consultant, told MarketWatch.
"But it's always the same thing every summer," he added.
Last year, pent-up demand pushed up airfares, and high fuel prices compounded the issue, along with labor shortages.
Airfare inflation is still going strong: Between February 2022 and February 2023, airfares rose 26.5%, according to the Bureau of Labor Statistics.
This chart shows how airfares have surged: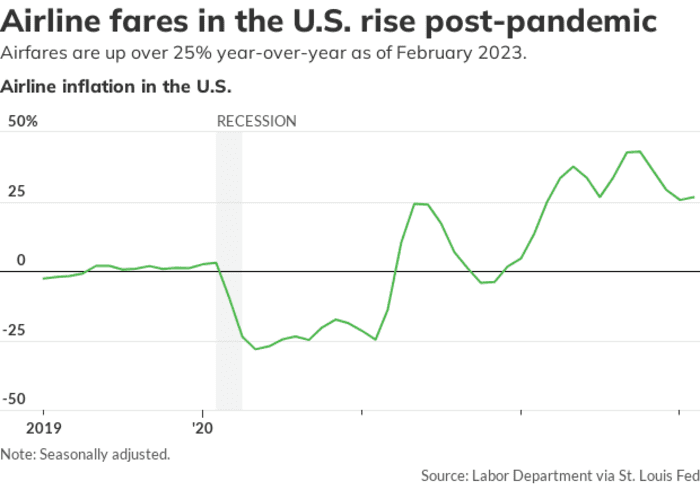 Aviation industry and labor shortages
Labor shortages are a more fundamental problem facing the aviation industry, including a lack of pilots and air traffic controllers, which is leading to delays and cancellations.
The pilot shortage is severe: The BLS noted that there were on average 18,100 openings for airline and commercial pilots projected for each year over the next decade. The median annual wage for pilots, co-pilots and flight engineers was $202,180 in May 2021.
But air traffic controllers are also in high demand these days.
After the Federal Aviation Administration said in late March it was struggling to fill slots at the air traffic control center in New York, the agency asked major airlines to cut service to airports in the city by as much as 10% for the summer months.
Airlines such as Delta DAL, +0.69% and United UAL, +1.50% will return up to 10% of slots and flight timings at swamped airports like New York LaGuardia and John F. Kennedy International Airport, as well as Newark and Ronald Reagan Washington National Airport, according to Reuters.
A few issues culminated in creating the shortage, Mann said. The pandemic slowed hiring, controllers have to retire by age 56, and it takes 3 years to get up to speed on the job.
"It's a high-pressure job," Mann said. And working as a controller in an intense environment like New York takes years of experience, he added.
The pent-up demand from the pandemic years has also pushed the aviation industry to the brink. "We have far more demand for the service of air-traffic controllers than we can satisfy. Airlines actually have far more demand that they can't even put up aircrafts to fly because they don't have the pilots and in some cases, they don't have the aircraft," Mann added.
Only 2,400 openings for air traffic controllers are projected annually by the BLS, over the decade. The median annual wage for air traffic controllers was $129,750 in May 2021.
Summer period is going to be intense
As travelers make plans to travel this summer, expect higher prices, delays and cancellations, Mann warned.
"Typically, summers are the period with the highest demand in the Northern Hemisphere, and it's going to put a real crunch on the National Airspace System."
Airlines meanwhile are preparing for a very busy summer travel season both domestically and internationally.
United Airlines on Thursday announced that it expanded its flying by 25% this year versus last year "to meet the sharp increase in demand for travel outside of the U.S." The airlines will offer flights to 114 different international cities this summer.
Ticket prices
Ticket prices, meanwhile, continue to rise.
In January and February, the increases in domestic flight prices have been increasing, Mann said. "The average value of a domestic roundtrip has increased by over 35%," he added. And the hikes are much more severe for international flights.
And with a short supply of controllers, the impact on domestic airlines will be airlines consolidating flights, flying less, and yet trying to make the same amount of revenue.
Expect the biggest impacts, reductions and cancellations in flights in big cities in the Northeast, like in New York's JFK or LaGuardia, New Jersey's Newark, D.C.'s Reagan, and even as far south as Miami and west as Chicago.
Even leaving aside fluctuations in energy prices, which also affect ticket prices, Mann has a grim prediction for the summer travelers: "Higher prices and fewer options."