"'The cookout [is going to] be lit.'"
— Jordan Hawkins, University of Connecticut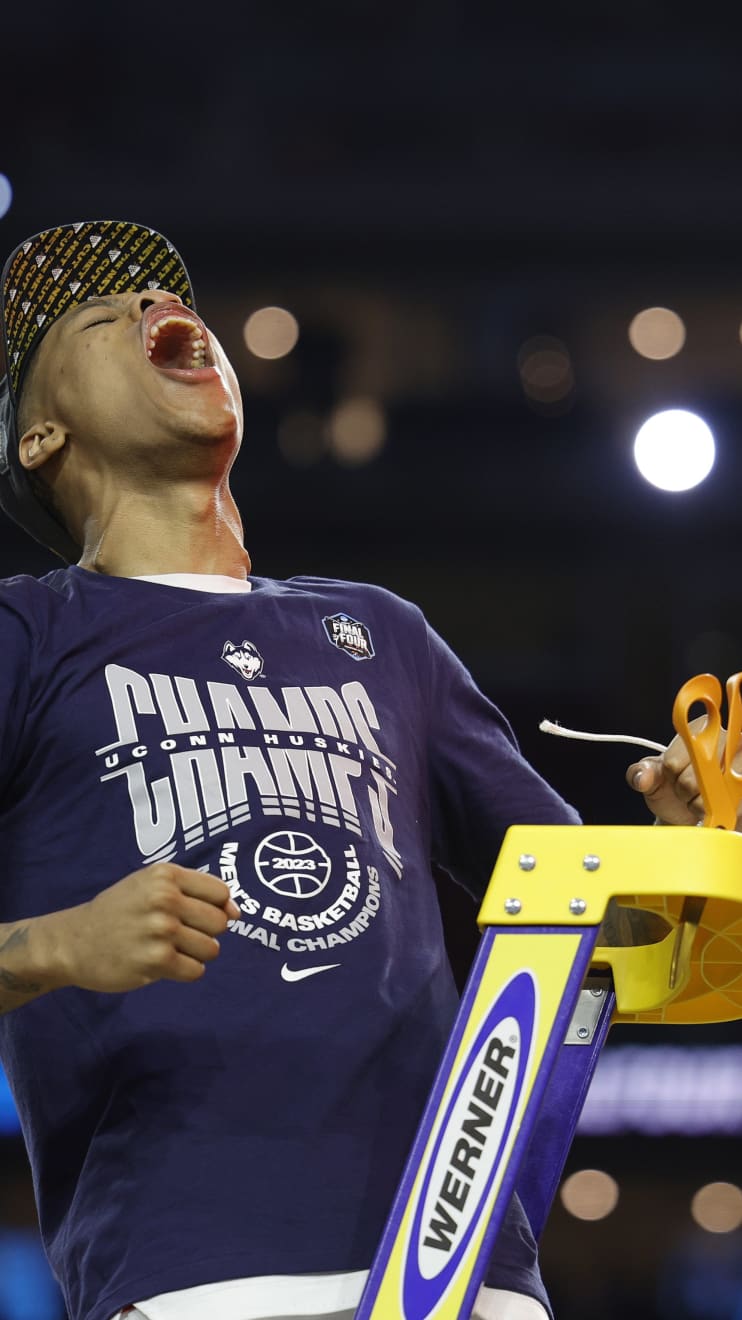 That's UConn guard Jordan Hawkins, referring after his UConn team topped San Diego State to claim the men's NCAA basketball title to the fact that a cousin, Angel Reese, had won a national championship a day before, as her LSU women's team beat Iowa.
The cousins, both 20, played pivotal roles in double-digit victories in their respective national championship games, with both winners opening big leads and fighting off crowd-stirring comebacks.
A Hawkins three-pointer Monday night was widely seen as having stopped a furious San Diego State resurgence in its tracks, stretching a five-point lead — a lead that had hovered in the high teens for most of the second half and, as coach Dan Hurley observed, could easily have been 20 by halftime — to eight.
Reese's LSU also withstood an astounding comeback on Sunday, as Iowa cut a yawning gap to single digits behind the play of scoring sensation Caitlin Clark, whom Reese — having contributed the 34th double-double of her season to LSU's 17-point winning margin — teased in the title game's waning moments with a set of hand gestures heard round the basketball world.
See: Sunday's NCAA women's basketball championship was most-watched ever, ESPN says
Also: LSU's Angel Reese on championship-ring and you-can't-see-me gestures after besting Caitlin Clark and Iowa: No regrets
The 6-foot-3 post-up forward Reese, far from shying from the spotlight after having sparked controversy on Sunday, on Monday issued an all-caps dismissal of first lady Jill Biden's suggestion that not just national-champ LSU but runner-up Iowa be invited to the White House in celebration of the women's tournament.
The 6-foot-5 Hawkins, who grew up in Gaithersburg, Md., volunteered that when he and Reese, who hails from Baltimore and initially played at the University of Maryland before transferring to Louisiana State, were younger and playing basketball in the park, he'd be the one getting cooked.
His UConn team not only outscored every NCAA tournament opponent by double digits but, overall, went 17-0 against nonconference opponents, with an average winning margin of 22.4 points. All eight of its 2022–23 losses came in Big East conference play.
Hawkins had been ill and was listed as questionable just days earlier when UConn faced the University of Miami in the national semifinal.
Read on:
LSU's Angel Reese has the most NIL sponsors of any college basketball player
Caitlin Clark NIL: Iowa star piled up wins — and money — during March MadnessClark and her Iowa Hawkeyes tea