The U.S. and European Union have plans to unleash roughly $1.1 trillion combined in funding through 2027 as part of a clean-energy race to lower carbon emissions, according to a new tally from the BlackRock Investment Institute.
That was a big bump up from pledges of about $200 billion each (see chart) in the years before the pandemic, which gave rise to major governmental funding initiatives on both sides of the Atlantic to reduce their reliance on fossil fuels.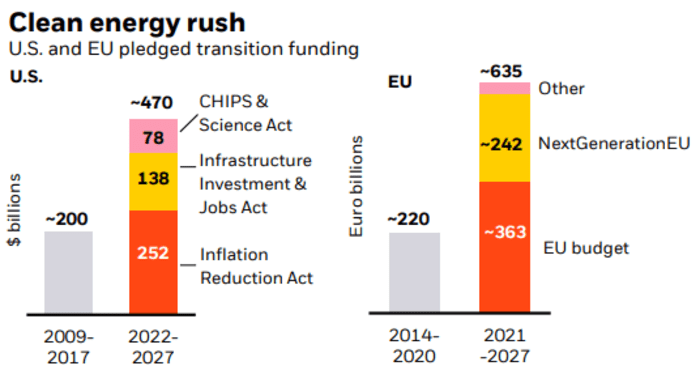 A BlackRock Investment team led by Wei Li, global chief investment strategy, said recent policy initiatives, including the U.S. Inflation Reduction Act, have opened up investment opportunities that have "so far gone largely under the radar," in a Monday client note.
They called the clean-tech push a "strategic priority for countries," given the growing fragmentation of the geopolitical backdrop, which has Australia, Canada and the U.K. "set to jump in," causing the race to accelerate.
BlackRock BLK, -0.41% is the world's largest asset manager with some $10 trillion in assets under management. The BlackRock Investment Institute, its research arm, said on Monday that portfolios should include both clean energy "transition-linked" assets like infrastructure and traditional energy, as it's likely to be a bumpy journey to lower-carbon economies.
West Texas Intermediate crude CL00, +0.52% CL.1, +0.52% was trading about 6.3% higher Monday near $80 a barrel, after oil producers known as OPEC+ on Sunday surprised markets with a planned cut in crude production.
The S&P 500 index SPX, +0.37% was roughly flat on Monday, but its energy component was up 4.7%. The Dow Jones Industrial Average DJIA, +0.98% was 0.7% higher and the Nasdaq Composite Index COMP, -0.27% was down 0.9%, according to FactSet.
Shares of energy-focused exchange-traded funds focused were higher Monday, including the Energy Select Sector SPDR Fund XLE, +4.53%, up 4.6%, at last check.
Tesla Inc. shares TSLA, -6.12% were down 6.3% Monday after the electric-vehicle maker said it delivered 422,875 vehicles in the first quarter, which was shy of the 432,000 analysts tracked by FactSet had predicted.
Tesla cut prices in January on its most popular electric cars, making more models eligible for the up to $7,500 federal tax credits newly available this year under the Inflation Reduction Act.
See: Want a rebate to upgrade home electric or swap to solar? There's good news and bad news