It's never too early to begin thinking about retirement. For most of us, that means opening a retirement account or rejiggering our investments, but few appreciate the many benefits of getting an early start on designing the home in which we want to live out our retirement. Along with a growing move toward aging in place, and related design practices and materials, a "forever home" can pay dividends long before we send that resignation letter to our employer.
In the past, designing for seniors and those entering retirement tended to involve a narrow set of requirements focused on questions of mobility and safety, such as stand-up bathtubs and wider doorways. It was a necessary but cheerless activity aimed at mitigating risk, with little concern for large questions of quality of life. And in many cases, such designs didn't even clear the bar of making life for retirees more convenient or secure.
Today, however, new designs that focus on forever homes are improving safety and making them more livable and enjoyable. This allows homeowners the opportunity to enhance their lives and enjoy a leisurely transition to retirement, as well as keep the home in great selling condition.
Here are some of the modern ways I'm seeing savvy homeowners update their homes now:
One example of the new approach naturally involves the bathroom. Instead of that stand-up bathtub, consider a shower with a low threshold that doesn't require a step up, and a raised bench close to the shower controls and hand-held showerhead. A higher toilet is also a plus, even for those not yet having issues with their knees.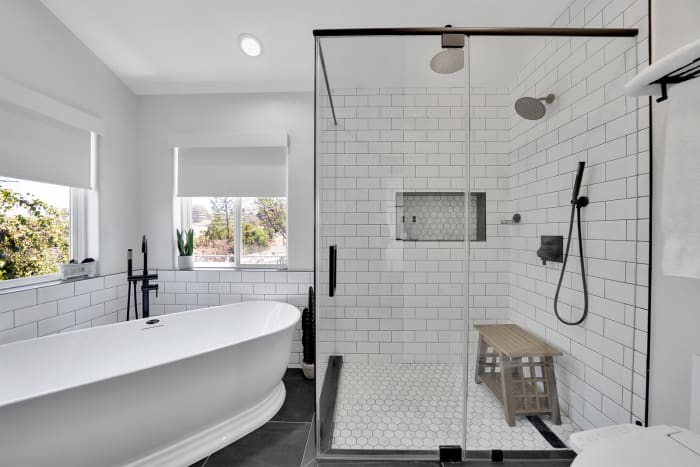 Meanwhile, the wider doors that have become de rigueur in retirement housing are often too massive for seniors to open and close without effort, leading to a growing preference for pocket doors with exposed handles or knobs. We also know now that interior lighting can be as crucial for safety as shower hand grips, with the proper illuminating of hallways, stairways and doorways being especially crucial for seniors.
The question of lighting also points to a major new focus for designers of forever homes, namely their need to cater to the emotional and mental wellness of individuals.
Seniors can benefit from open-plan kitchens and living areas with more natural light, and room for more than one person in a kitchen's work triangle, and in other highly-trafficked areas of the house, as much—or more — than growing families do. Just as the shift to work-from-home has made functional home offices a key priority for working-age homeowners, seniors can benefit from having a place other than the kitchen table to take care of paperwork and other tasks.
End to cookie-cutter design (finally)
I'm seeing appreciation grow that every owner of a forever home is likely to have special requirements or desires. For some, this will be more and shallower cabinets, the addition of built-in lazy Susans to shorten the reach necessary to grab items, and keeping cabinets high so there's no need to bend down. For others, a priority may be having an even threshold—no step-ups—not only on the shower but in doorways throughout the home.
While it might seem like settled wisdom that a one-floor layout is best for seniors, some may instead find a multi-floor layout with an elevator or stair glider preferable to a longer walk through rooms and hallways on one floor. And if many seniors lose an inch or two in height, a ceiling that is a few inches higher might dramatically elevate their daily happiness (while also adding 5% to 25% to resale value, according to research, which can likewise improve their peace of mind).
When you speak to a designer, make sure they're gauging not just your expressed desires but how you're living now, with the aim to help you live more freely and efficiently. In many such consultations, homeowners are shocked at how they've become acclimated to profoundly inefficient layouts and amenities, and how dramatically their lives can be improved right now through more thoughtful design.
Indeed, probably the biggest change in designing homes is a better understanding that the lines between senior living and working-age life have become increasingly blurred. Most can benefit from acting earlier. The benefits: Being able to better enjoy life before retirement, as well as ensuring that the transition to your golden years isn't complicated by a rush to create more suitable housing. It also means that changes made for senior living will likely add to a property's resale value, even in a neighborhood of younger families, making it a forever home in more than one sense.
Josh Goldenberg is a residential remodeling expert and co-founder of 5blox, a home renovation agency in greater Los Angeles.