Taking care of a dog or cat takes a lot of scratch. In fact, four in 10 pet owners in a new survey said they've cut back on their grocery bill so they could keep feeding their dogs.
Rover surveyed 1,500 pet parents in the U.S. about what they spend on essentials such as food, veterinary care, poop bags, kitty litter, toys, medication and more, to come up with the spending ranges for dog and cat expenditures over a year. And what people pay for their pets can vary based on the breed, their pet's age, whether the animal has any medical conditions, where the family lives, etc., which is why the report gives a range rather than one average figure.
Read more: Cats vs. dogs: Which pet makes better financial sense?
Dogs tend to be more expensive because they are generally larger than cats and eat more food. They also require paying someone to walk and board them when you go away, while a healthy cat in its prime can be left alone for a day, or even overnight, as long as it has access to fresh water, food and a clean litter box. (But check with your vet first.)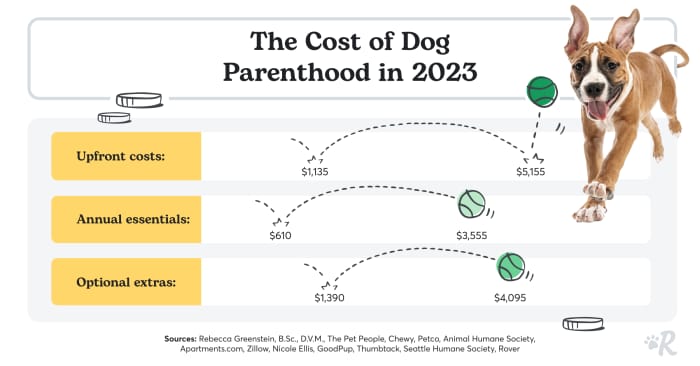 Annual essentials for dogs in this report include food, which varied widely ($300-$2,340) depending on how much a dog breed eats, as well as the brand of dog chow. Then there's flea and tick prevention ($55-$215), poop bags for those walks ($95-$160), an annual checkup ($70-$110), treats ($60-$480) and toys ($30-$250), which adds up to between $610-$3,555 on your doggo for the year.
Cats in this survey, on the other hand, claw between $180-$870 for food each year on average, and treats weren't included in their annual essentials list. But cat litter (between $55 to $525 a year) is certainly one expense that dog owners don't have to worry about. And cat toys tend to be cheaper than dog toys ($5-$75 for the year), while annual checkups are actually a little higher for cats in this report ($85-$130), which adds up to between $325-$1,600 to care for a kitty all year.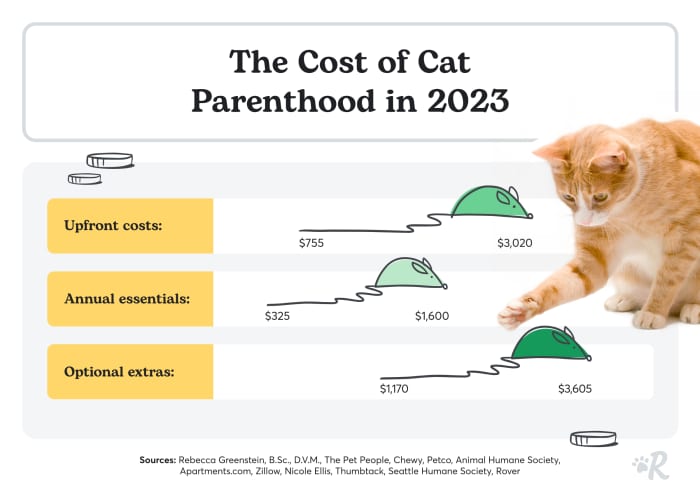 But that's still not even the full picture, as the annual essentials roundup for each pet doesn't include the upfront costs of adopting a dog ($1,135-$5,155) or cat ($755-$3,020), which can include adoption fees, microchipping, getting the pet spayed or neutered, purchasing startup supplies like beds and litter boxes, etc. In fact, most of the folks that Rover surveyed ended up spending more on their new furry friend than what they originally budgeted. While almost three-quarters (72%) expected to spend up to $1,000 to bring home their new pet, nearly a third (29%) found the actual total cost was higher than they expected.
Plus, there are also optional extras like pet insurance, grooming fees and pet-sitting, which can run another $1,390-$4,095 for dog owners each year, and $1,170-$3,605 for cat owners. Emergency vet visits ( $160-$1,290 for dogs and $215-$1,615 for cats) can be another unexpected expense.
And inflation keeps pushing prices higher, people told Rover, with 81% of surveyed pet parents saying the rising price of pet food has impacted them the most. That's led to 41% of the surveyed pet owners saying they cut back on their own grocery bills in order to provide for their dogs.
Related: Is pet health insurance worth it? Here's what to know before you buy it.
This aligns with the latest data from the American Pet Products Association, which reported 87 million U.S. households owned pets last year, spending almost $137 billion on their pets in 2022, which was up 11% from the previous year. And here again, pet food took the biggest bite out of the budget, with a collective $58.1 billion spent on pet foods and treats last year, which was up 16.2%. "We know this increase can be attributed in large part to higher than anticipated inflation, and we expect spending will follow a similar trajectory and remain steady in 2023," said APPA President and CEO Peter Scott in a statement.
Yet despite their dogs and cats fetching hundreds if not thousands of dollars per year, many pet parents call their fur babies their best return on investment, as 82% of those surveyed by Rover said their pet brings them the most happiness out of everything that they spend money on.
And 42% said they would rather give up their morning latte, forever, than give up their pet.
No wonder pets have been called "recession proof," seeing as how the pet industry saw a 5.1% growth in sales during the 2008 financial crisis, as NASDAQ.com notes. Pet product sales and services also grew at a faster rate than the overall U.S. economy during the 2020 COVID-19 recession, at 16.2% growth compared to 4.3% as people hunkered down at home with their pets — or adopted new ones.
From the archives: 'We needed each other in this crazy mess.' Is the pandemic a good time to rescue a dog?
The American Pet Products Association also called the pet industry "strong and resilient" in its latest report.