Older Hollywood actors had success recently by heading back to work to play retirees in sitcoms like "Grace and Frankie," a popular Netflix comedy.
Retirement, however, isn't a laughing matter for markets, with the Federal Reserve continuing its battle to bring down high inflation and the U.S. economy still reeling from an estimated 2.1 million workers out of the labor force.
Investors in stocks were seeing gains in March by looking past the collapse of Silicon Valley bank, the largest bank failure since 2008, and its aftershocks. But they might not be out of the woods, yet.
Torsten Slok, chief economist at Apollo Global Management, on Friday pointed to another potential pothole for markets. The labor-force participation rate has climbed back above its prepandemic high, when adjusting for age and retirement (see chart) but who will fill all those open jobs?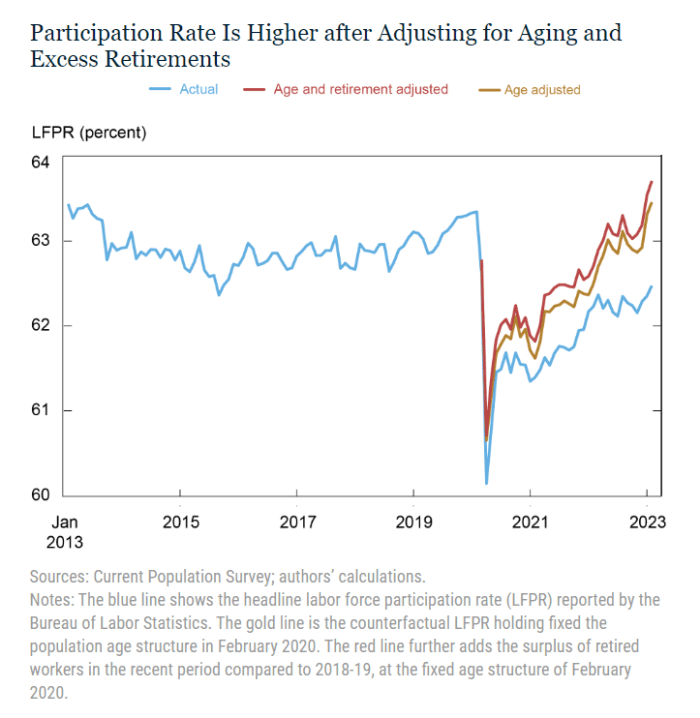 It likely won't be someone in the "Grace and Frankie" age group, since the labor participation gap has been driven mostly by an aging U.S. population and baby boomers retiring since the onset of the 2020 pandemic, according to a report Thursday from the New York Federal Reserve.
"We find that nearly all of the participation gap can be explained by population aging, which caused a significant rise in the number of retirements," New York Fed researchers wrote, adding that their focus was on people age 60 and older.
Slok at Apollo's takeaway for markets was this: "it is going to be even more difficult for the Fed to get wage inflation under control, because there is no longer a large pool of labor available to fill the record-high levels of job openings."
The S&P 500 index SPX, +1.44% on Friday was on pace for a 3.4% monthly gain, while the Dow Jones Industrial Average was up 1.8%, according to FactSet.
The standout still was the Nasdaq Composite Index's COMP, +1.74% 6.6% advance in March, helping to put it on pace for its biggest quarter of gains in at least two years.
Check out: How to buy I bonds with your tax refund