U.S. stocks rose on Monday as traders welcomed waning signs of banking sector stress.
How stocks are trading
The Dow Jones Industrial Average DJIA, +0.64% rose 278 points, or 0.9%, to 32,516.
The S&P 500 SPX, +0.56% was up 26 points, or 0.7%, to 3,997.
The Nasdaq Composite COMP, +0.46% gained 33 points, or 0.3%, to trade at 11,857.
The Dow on Friday ended a back-to-back run of weekly declines, while the S&P 500 and Nasdaq Composite both saw weekly advances.
What's driving markets
An agreement by First Citizens Banchshares Inc. FCNCA, +42.22% to buy the deposits and loans of failed Silicon Valley Bank helped underpin sentiment as shares of European banks steadied. Shares of First Republic Bank FRC, +16.11% surged 29% and led a swath of regional lenders higher, with the SPDR S&P Regional Banking exchange-traded fund KRE, +1.67% up 3.9%.
"With Silicon Valley Bank's deposits and loans now housed in longer term accommodation in the U.S., a calm of sorts has descended on the banking sector…Shunting parts of the failed bank off to a new owner may give the regulator more capacity to deal with problems still threatening to pop up elsewhere, particularly with U.S. regional banks," said Susannah Streeter, head of money and markets at Hargreaves Lansdown.
Mohamed El-Erian, adviser to Allianz and Gramercy, welcomed the calmer mood, but noted that underlying uncertainty may linger unless signs of stress in the market for insuring ban debt, known as credit-default swaps, dissipated further.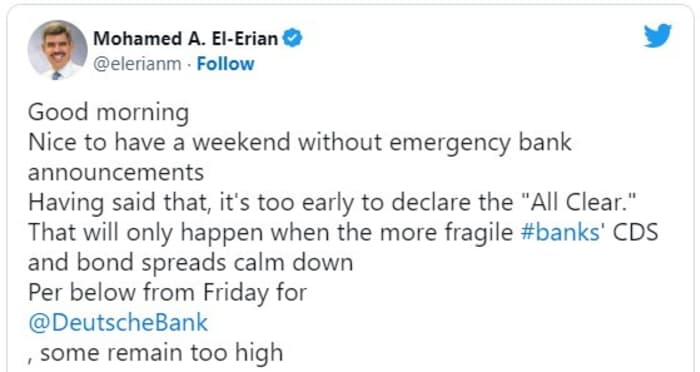 U.S. equities have been particularly choppy in recent weeks as traders have expressed anxiety about banking sector stress while welcoming the lower bond yields those concerns have delivered.
See: Why the worst banking mess since 2008 isn't freaking out stock-market investors — yet
This has left the S&P 500 stuck near the middle of the 3800-4200 range it has held for four months, and leaves the Wall Street barometer "stuck on either side of its 200-day moving average," said Jonathan Krinsky, chief technical strategist at BTIG.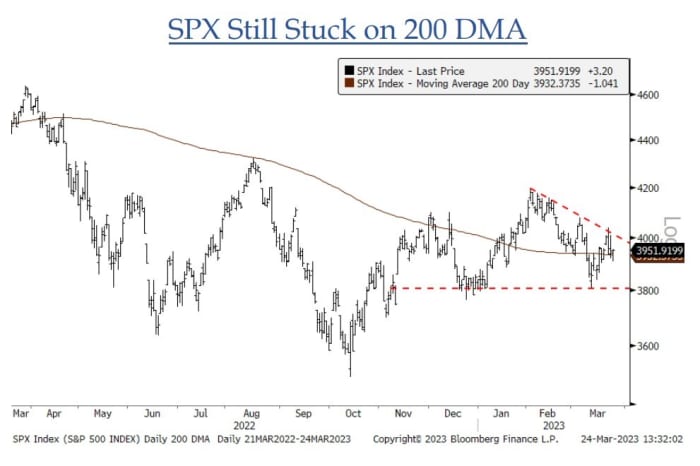 There are no notable U.S. economic updates set for release on Monday, but there will be some Federal Reserve commentary when Gov. Philip Jefferson is due to deliver comments at 5 p.m. Eastern.
Companies in focus