Recent signals of a resilient economy have led some to expect the Fed chief will hint about rates staying higher for longer. While Friday's jobs data may loom larger for markets, some Powell-driven action definitely can't be ruled out, hence largely flat stock action this morning.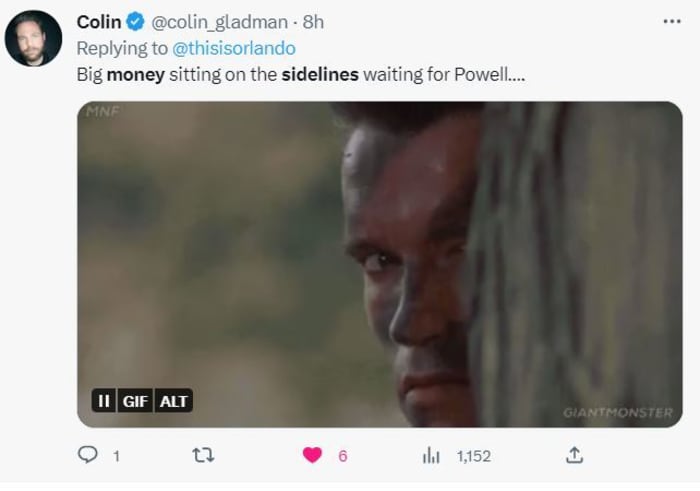 No matter what the Fed chief has to say this week, the market has one idea stuck in its brain right now, and it's all wrong, says our call of the day from volatility expert Harley Bassman.
"By intent or accident, the market has bet the ranch that the U.S. economy is going to 'hard land' soon, and thus induce the FED to cut rates as early as Labor Day
(September); that is simply NOT going to happen. While 'goods' inflation is
calming (used cars, really ?), 'service' inflation has not pulled back," says Bassman, a managing partner at Simplify Asset Management, writing on his Convexity Maven blog post.
The money manager is best known for creating what's now known as the ICE BofA MOVE Index — Wall Street's most widely followed measure of fixed-income volatility.
Bassman lays out a simple reason as to why we won't see a hard landing: "The demand for labor cannot be met as boomers retire from the workforce for reasons of either age or a (still) plump 401(k); and immigration (legal or otherwise) can no longer plug the gap. Every window I see has a 'help wanted' ad."
Bassman says the Fed won't cut rates until "sometime in 2024," not in mid-2023.
The two-year bond yield is currently a whopping 4.888%, while the 10-year yield is at 3.953%.
Investors have been particularly rushing out of 10-year Treasurys bonds TMUBMUSD10Y, 3.994%, based on fears sticky inflation will cause higher Fed rates at least in the short term. That has pushed yields higher — to above 4% last week —amid an ongoing yield curve inversion — when short-term interest rates exceed long-term ones.
"The ten-year is presently near 4.00% and using our simple bond math from discounting the yield curve, the two-year forward ten-year rate is 3.65%," he said.
And based on his prediction that ten-year rates will drop to 3.50% if the Fed cuts rates to 2%, he sees little profit in buying 10-year bonds. "I see a lot of risk to make a 15bp gain (about 1 point in price)."
In short, Bassman said the yield curve is far too inverted even if inflation projections out there are optimistic relative to the Fed's own politics and policies.
So what should investors do about Wall Street's wrong-way bet? The money manager sees an opportunity via the current shape of the yield curve.
"If the peak FED rate is 5.1% to 5.4% (FED Dots), then that is the limit for the UST 2yr (since the 2yr only exceeds the FED rate in anticipation of continued rate hikes). Conversely, a rate reduction can certainly be much greater (50bp up vs 300bp down) offering an unbalanced return profile. This is the definition of positive convexity," he said.
Bassman lays out his trade in the chart below, which suggests investors buy short-term Treasury futures: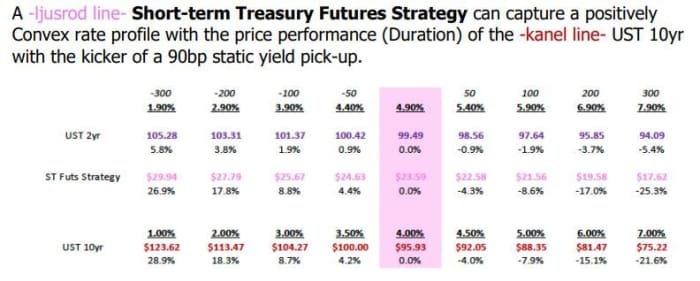 "Traditionally, the main reason investors are willing to take a lower yield for a longer
maturity bond (yield curve inversion) is to pick up the greater duration, and thus
superior price performance if interest rates decline. Here this trade-off has been
curtailed via the use of listed CBOT futures contracts to gain leverage without the usual reduction in current yield," said Bassman.
The markets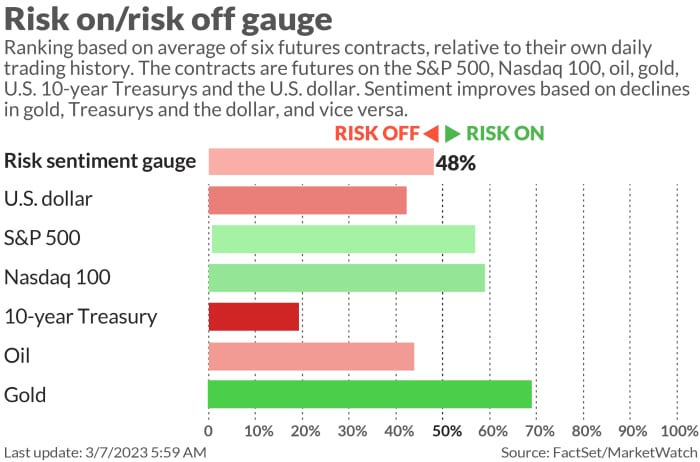 Stocks DJIA, -0.59% SPX, -0.86% COMP, -0.91% are treading water, while the dollar DXY, +0.29% is higher and oil CL.1, -0.51% is softer. Elsewhere, China stocks 000300, -1.46% came under pressure and Europe stocks SXXP, -0.20% are having a weaker day.
For more market updates plus actionable trade ideas for stocks, options and crypto, subscribe to MarketDiem by Investor's Business Daily.
The buzz
Fed Chairman Powell's semiannual report on monetary policy and the economy to the Senate Banking Committee kicks off at 10 a.m. and he will appear at the same time before the House Financial Services panel on Wednesday (follow live coverage here). Wholesale inventories are also due at 10 a.m., followed by consumer credit at 3 p.m.
Facebook parent Meta META, +0.31% is reportedly planning thousands of new layoffs, just months after axing 13% of employees. Shares are up 1.5%.
Read: Tech execs didn't just start talking about AI — but they are talking about it a lot more
Grindr's stock GRND, -8.44% is down 15% after the social media and dating app reported lower fourth-quarter income. E-commerce site Squarespace SQSP, +8.78% climbed 10% on upbeat guidance.
Rivian Automotive shares RIVN, -11.82% are down 5% after the EV maker announced a $1.3 billion bond sale. Nutanix shares NTNX, -7.75% dropped 6% after the cloud-computing firm said in its preliminary fiscal second-quarter results that it may not be able to file its 10-Q as scheduled.
Biopharmaceutical ADial ADIL, +19.05% surged 50% in premarket after issuing an an update on its regulatory strategy related to its treatment for alcohol use disorder. Cara Therapeutics CARA, -31.54% sank 27% premarket after disappointing fourth-quarter results.
WW International WW, +30.62% is up 15% after the weight-management company reported results and said it would buy telehealth provider Sequence for $106 million.
China's new foreign minister Qin Gang has warned the U.S. is speeding "down the wrong" path to a possible conflict with his nation.
The four Americans kidnapped in Mexico last week had traveled there because one was seeking a tummy tuck procedure.
Best of the web
Could Congress actually ban TikTok in the U.S.? Analysts say it's not so easy.
Russia is not coming clean about how many thousands of soldiers have died in Ukraine. Here's the story of one of them.
Why some consumers are ready to pay $700 for these luxury ice makers.
A Twitter employee asked Elon Musk publicly if he'd been fired. Musk answered.
The chart
The Global Supply Chain Pressure Index (GSCPI) has dropped below the historical average for the first time since August 2019, notes Wolf Richter, of the Wolf Street blog. What that means is inflation in goods has normalized, but alas he notes trouble elsewhere.
Inflation is "raging in services that are largely unaffected by supply chains," says Richter, who offers the following chart: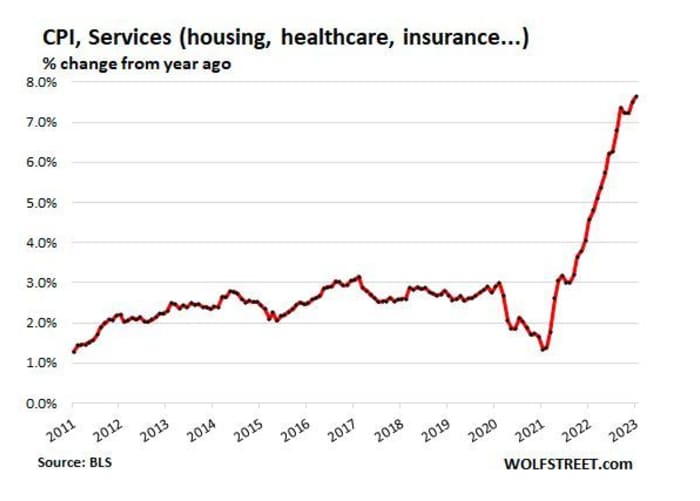 The tickers
These were the top-searched tickers on MarketWatch as of 6 a.m.
| | |
| --- | --- |
| Ticker | Security name |
| TSLA, -3.71% | Tesla |
| TRKA, -28.15% | Troika Media |
| BBBY, -4.52% | Bed Bath & Beyond |
| AMC, -2.55% | AMC Entertainment |
| GME, -2.25% | GameStop |
| NIO, -4.51% | NIO |
| NVOS, +17.82% | Novo Integrated Sciences |
| XELA, -4.38% | Exela Technologies |
| MULN, -6.91% | Mullen Automotive |
| NVDA, -0.65% | NVIDIA |
Random reads
'Sushi terrorism' means no more restaurant conveyor belts in Japan.
Fashion statement: Horses on the runway and bags made of grapes.
Need to Know starts early and is updated until the opening bell, but sign up here to get it delivered once to your email box. The emailed version will be sent out at about 7:30 a.m. Eastern.
Listen to the Best New Ideas in Money podcast with MarketWatch reporter Charles Passy and economist Stephanie Kelton