As the U.S. looks ahead to coming decades in which climate change, especially if left unchecked, could sharply alter how people live and economies thrive, researchers reveal which cities and surrounding metro areas are most vulnerable to the risks of sea-level rise, extreme heat and water-shortage stress.
Importantly, those cities tagged on the watchlist are popular areas that attract young professionals. But some also historically draw retirees because of warmer temperatures and attractive coastlines. San Francisco, New York City and Phoenix are the top places expected to feel the worst of climate change, according to a new report by Moody's Analytics.
Economists and researchers at Moody's said they've opted to explore the economic impacts from climate change on a regional basis because changes will vary.
"Understanding regional nuance is critical in a nation with significant economic
and geographic diversity and nearly 100,000 miles of shoreline," the researchers said. "This is especially true given the slow pace at which U.S. policymakers are responding to the threat posed by a changing climate, especially in comparison to their European counterparts."
Emissions created when fossil fuels are burned are blamed for rising temperatures, acidifying oceans, eroding coastlines and increasingly severe drought, heat and flooding. Scientists continue to study natural disasters, but their findings increasingly point to longer seasons for extremes and potentially more damage when they do hit. For example, hurricanes hovering over warming oceans suck up more water that is then carried further inland, bringing flooding scares.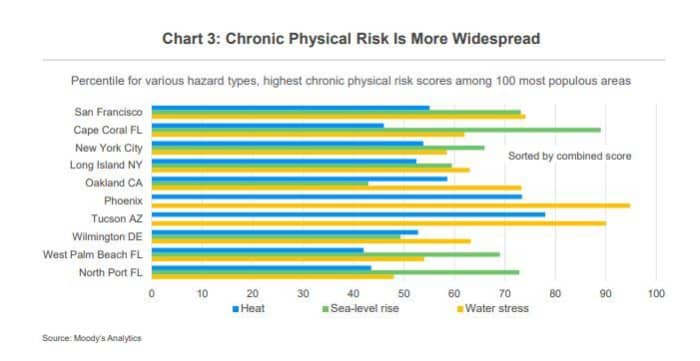 The Moody's report calculated its forecasts based on two different risk categories: first, the long-term exposure to drought, extreme heat and sea-level rise; and second, the short-term exposure to hurricanes, wildfires and floods.
"Absent policy changes, large coastal states like California, Florida and New York are especially vulnerable, while more inland northern economies will emerge only slightly worse off, with a handful of small metro areas possibly benefiting slightly," said Adam Kamins, senior director at Moody's and author of the report.
Read: A retirement safe from climate change? Ask the tough questions about real estate and property insurance
San Francisco is not especially susceptible to any one threat, but above-average risk from each category makes it the single-most exposed large metro area, the report said.
After San Francisco, comes Cape Coral, Fla.; New York City; Long Island, New York; Oakland, Calif., and Phoenix, rounding at the top riskiest locations.
Read: Is Florida's Surfside building collapse a 'gray swan' climate-change event?
New York City is particularly vulnerable to significant losses from sea-level rise. Manhattan is surrounded by water and frequent flooding could "prove crippling to an economy where much activity — and the ability to travel — is tied to low-lying land or subway tunnels," the report said.
" San Francisco is not especially susceptible to any one climate-change threat, but above-average risk from each category makes it the single-most exposed large metro area."
— Moody's Analytics
Water stress is most pronounced in the western U.S. This is particularly true of the Four Corners states, with Arizona, New Mexico and Utah all facing significant risk from more frequent droughts. In larger Phoenix and Tucson, Ariz., water stress makes them among the most susceptible to chronic climate risk, even though their inland locations protect them from sea-level.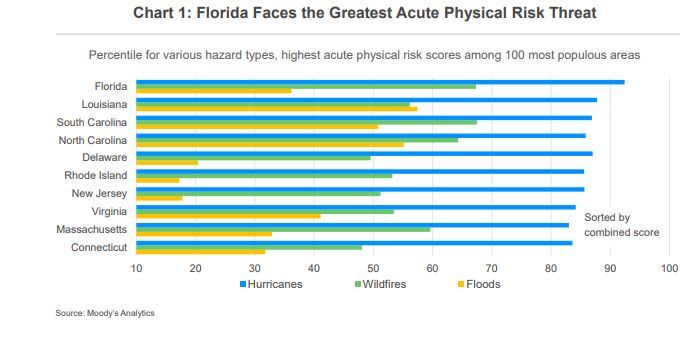 Don't miss: 'We love our forest life': I'm 62 and work full-time. I own a $600,000 California home perched on the edge of wilderness. Has the time finally come to downsize?
Very low drought risk relative to the nation helps ensure that some portions of the mid-South and Gulf Coast are better protected from climate change. Kentucky, Louisiana and Tennessee all boast ample water supplies, including an extensive network of aquifers that significantly reduce the likelihood of extreme drought, the researchers noted.
Read: President Carter was the first to put solar panels on the White House. Reagan removed them 7 years later.
And, while heat risk is problematic for much of the South, its impact will be greatest in the middle of the U.S. In fact, Iowa is the single-most vulnerable state to rising temperatures, reflecting the outsized impact of warmer weather on agriculture.
Risks are also elevated in states that struggle with poverty, perhaps owing to a lack
of adaptive capacity, such as air conditioning. This places more residents at risk.
The U.S. metros that are least exposed to a combination of extreme heat, sea-level rise and drought include Baton Rouge, La.; Detroit; Knoxville, Tenn; Warren, Mich.; and Dayton, Ohio.
" Iowa is the single-most vulnerable state to rising temperatures, reflecting the outsize impact of warmer weather on agriculture. "
— Moody's Analytics
Baton Rouge is one of the most climate-resilient areas because it has greater access to fresh water and is not exposed sea-level rise, even though Louisiana as a whole is grappling with more severe and frequent climate disasters like hurricanes.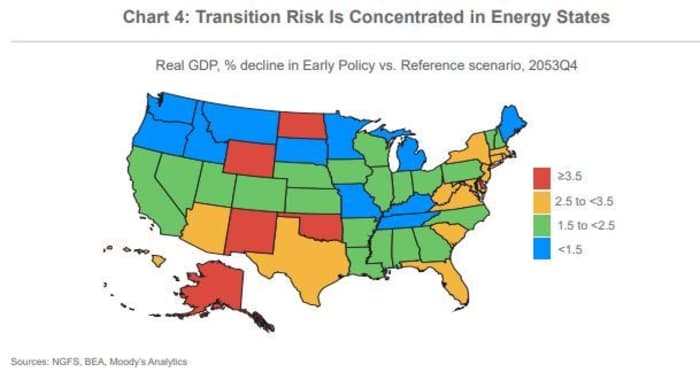 The report stretched beyond physical risk to these communities to include the stress on select economies from a transition to renewable energy from coal, oil CL00, +0.17% and natural gas NG00, +2.16%.
Related: Clean-energy investing is poised to top the money backing oil and gas after hitting a record $1 trillion
Alaska, North Dakota and Wyoming are hit especially hard in an energy-transition scenario. So, too, are New Mexico and Oklahoma, which rely heavily on the energy industry. These patterns make Houston and Oklahoma City two of the most vulnerable large metro areas. This reflects the importance of energy to each, even though support and headquarters positions play a more significant role than actual mining jobs in both places.
Generally, states that perform best are those with minimal exposure to both transition and physical risk. This puts the Pacific Northwest, northern Rockies, and water-rich mid-South in the most favorable positions, the report said.