Wall Street's expectations for 2023 have been diving as forecasts for the new year come in light, and the news could get worse once they factor in disappointing results from Big Tech. But at least Bob Iger is coming back for a sequel.
Google, Facebook, Amazon and Apple all disappointed with holiday earnings this week. Their forecasts ranged from nonexistent to piecemeal to meh, and the fallout will only add to the biggest dive in Wall Street's expectations through the beginning of a year since 2016.
Analysts' average forecast for 2023 earnings from the S&P 500 index SPX, -1.04% dropped by 2.5% in January, according to FactSet Senior Earnings Analyst John Butters, the worst in seven years. Those projections began heading lower last year, and the decline is only steepening — analysts are now projecting 3% earnings growth in 2023, and that is contingent on a big holiday rebound from the results being released this quarter.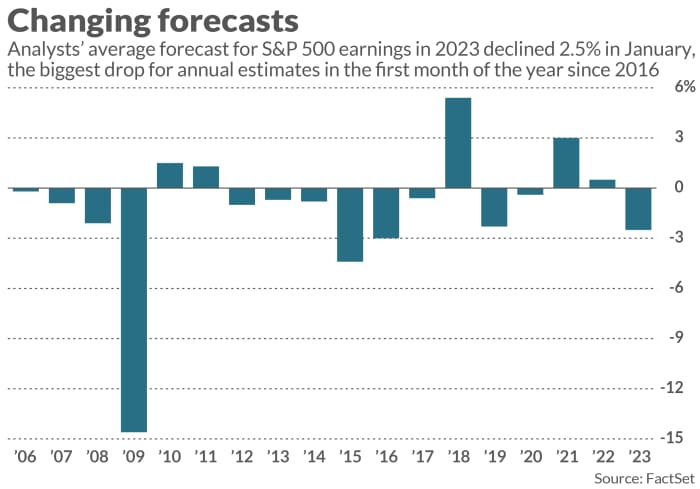 The news was even worse for the first quarter, for which projections declined 3.3% in January as companies whiffed on their forecasts at a rapid pace: 86% of the 43 companies that have guided for first-quarter earnings have missed projections, Butters reported. Earnings are now expected to decline 4.2%, which would be the first year-over-year earnings decline since the third quarter of 2020, when the COVID-19 pandemic write-offs started to come in.
Big Tech only added to the downward trajectory in recent days. Amazon.com Inc. AMZN, -8.43% missed on its holiday earnings as well as its forecast for the first quarter, and that company could determine if S&P 500 profits rise in 2023 all on its own. Amazon's worst holiday earnings since 2014 could also contribute to the consumer discretionary sector's first earnings decline since the beginning of the pandemic, with holiday sector earnings now expected to drop more than 5%.
Google parent Alphabet Inc. GOOGL, -2.75% GOOG, -3.29% and Facebook parent Meta Platforms Inc. META, -1.19% also missed their respective earnings targets amid problems with the digital-advertising industry, leading to the communications-services sector having the worst earnings season in the S&P 500. Profit has declined 25.2% in that sector so far, the worst among the 11 S&P 500 sectors, but would be down just 6.5% without the effects of Meta and Alphabet, Butters reported.
Apple Inc. AAPL, +2.44% also didn't do projections any favors, reporting its biggest sales decrease since 2016 and an earnings miss Thursday afternoon. In a piecemeal forecast, executives projected a similar sales decline in the calendar first quarter, though unofficially.
This week in earnings
After the busiest week in earnings season wrapped up, don't expect much of a breather — 95 S&P 500 companies are expected to report in the week ahead, the third consecutive week with at least 90 companies reporting. There will be plenty of intrigue among companies not in the S&P 500 too, including Robinhood Markets Inc. HOOD, -3.59% and Affirm Holdings Inc. AFRM, -14.14% reporting together on Wednesday afternoon.
Only one Dow Jones Industrial Average DJIA, -0.38% stock will report, but that is the Wednesday call you will want to tune in for: Bob Iger's return to the Walt Disney Co. DIS, -2.21% earnings show.
The calls to put on your calendar
Disney: The last time Disney announced earnings, Bob Chapek's performance was so bad that the Disney board brought Iger back aboard to redirect the company. While he's already had to fight with activist investor Nelson Peltz— there were dueling letters this week as Peltz seeks a seat on the Disney board — this will be Iger's true return to the Wall Street stage. The longtime CEO has always had a knack for taming investors, often appearing live on CNBC between the bell and the conference call on earnings day, sometimes dropping secret nuggets of info for fans throughout the afternoon. Listen for him on Wednesday to see what he expects to change after replacing Chapek. For more: Wall Street shows love for Bob Iger, 'perhaps the best leader in media'
Take-Two: Any hints on when we are going to see "Grand Theft Auto VI?" Analysts are trying to time the game's release, as it will likely lead to a flood of profit that could…just keep on going, if "GTA V" — still one of the biggest sellers every year and the biggest ever — is any indication. Take-Two Interactive Software Inc. TTWO, -4.74% reports Monday, after its stock fell more than 40% in 2022 amid a merger with Zynga. Results will likely rely on holiday sales of "NBA 2K23″, but analysts will want news about the pipeline. The same afternoon, videogame publisher Activision Blizzard Inc. ATVI, -2.43% will announce earnings, but again not host a conference call as it awaits its acquisition by Microsoft. Read: As gamers wait for 'Grand Theft Auto VI,' Take-Two likely has 'major announcements right around the corner,' analyst says
The numbers to watch
Food prices: Groceries, prepared foods and even snacks have seen higher prices in waves of inflation, and executives will give clues about their plans for pricing going forward nearly every day of the week: Tyson Foods Inc. TSN, -1.69% on Monday, Chipotle Mexican Grill Inc. CMG, +0.20% on Tuesday, Yum Brands Inc. YUM, -0.94% on Wednesday and wrapping up with PepsiCo Inc. PEP, -0.50%

,

Kellogg Co. K, -0.03% and Flowers Foods Inc. FLO, -0.25% on Thursday. Listen out for some of the phrases they used to suggest they could still raise prices if they wanted to last season: "pricing power," "strong pricing" or "price realization."
Ride-hailing prices and demand: In their most recent results, Lyft Inc. LYFT, -0.97% disappointed with its number of rides, but showed much higher revenue per ride, while Uber Technologies Inc. UBER, +0.12% rides increased 19% as gross bookings ran up 45% on a constant-currency basis. Both of those suggest rising prices, which could affect demand that has been steadily growing in the third year of the COVID-19 pandemic. Compare bookings and revenue growth with riders and rides growths when Uber reports Wednesday morning and Lyft on Thursday afternoon. Read more: Food prices keep rising. Food-company execs are betting Americans will keep paying.