Right now there's a gap between where the bond market says interest rates are heading, and where Federal Reserve officials say they're going — and the so-called bond king says investors should put their faith in markets.
"My 40 plus years of experience in finance strongly recommends that investors should look at what the market says over what the Fed says," said Jeffrey Gundlach, the DoubleLine Capital chief executive and chief investment officer, in a webcast Tuesday, according to Bloomberg.
One slide from Gundlach's presentation recommended investors swap out the federal funds rate with the 2-year Treasury TMUBMUSD02Y, 4.240%.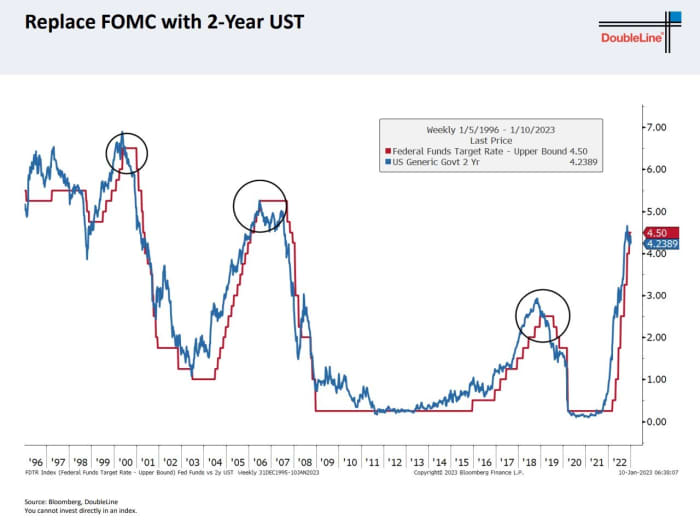 Minneapolis Fed President Neel Kashkari told the New York Times in an interview published this week that the central bank will be proved right. "I've spent enough time around Wall Street to know that they are culturally, institutionally, optimistic," Kashkari said. "They are going to lose the game of chicken, I can tell you that," he said.
Gundlach, as he's been saying recently, made the case both for bonds as well as international stocks, according to a separate writeup from CNBC.
He also pointed out the ratio of copper HG00, +0.93% to gold GC00, +0.67% now sits below the yield on the 10-year Treasury TMUBMUSD10Y, 3.579% — usually that ratio tracks the benchmark yield closely.