A new McLaren is news for anyone who loves great cars. An invitation to drive the new 2023 McLaren Artura in Nevada is a headline for any enthusiast. We got to experience the new hybrid supercar on the streets of Nevada and the track at Las Vegas Motor Speedway, and we're here to tell the tale.
McLaren's racing pedigree has deep roots in Can-Am, Le Mans, and Formula One competition. The company's eponymous founder, Bruce McLaren, was a racer-turned-constructor responsible for the brand's initial success. In 2011, McLaren began production on the first of its high-performance sports cars, the MP4-12C. Other excellent sports cars and supercars followed over the past decade, such as the 570S and 600LT. Its latest supercar entry, the McLaren Artura, slots right below the 720S.
Check out: The 2023 Mercedes-Benz EQS sedan: A luxurious and high-tech EV with thrilling performance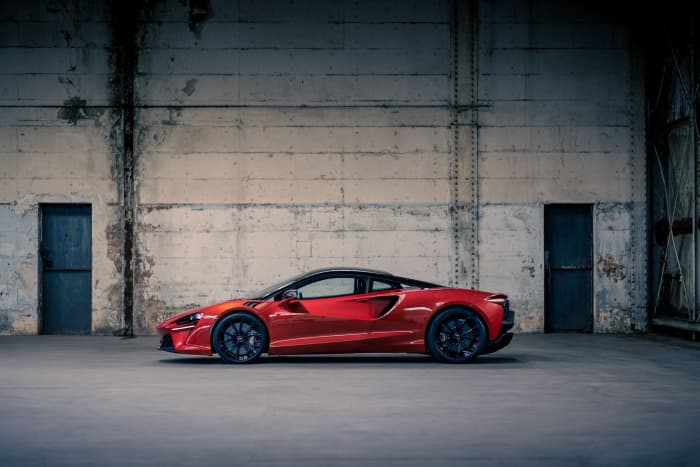 What is the McLaren Artura?
The McLaren Artura is the brand's first production series hybrid supercar. The Artura isn't McLaren's first venture into hybrid vehicles, however. Enthusiasts will likely remember the P1 and Speedtail, both hybrid-powered McLaren cars. Still, those vehicles are part of the manufacturer's limited-run "Ultimate Series," built in far more finite numbers.
The powerplant of the Artura consists of a 3.0-liter twin-turbocharged V6 and an electric motor that work in tandem to create an exhilarating driving experience. Additionally, the Artura is a plug-in hybrid, or PHEV, and can operate in full electric mode with a range of up to 11 miles. The charging time for the Artura is just 2.5 hours to 80% with a standard charging cable.
Also see: Lamborghini is now making an off-road supercar.
How much does the McLaren Artura cost?
The 2023 McLaren Artura manufacturer's suggested retail price is $233,000 plus $4,500 transportation and port processing charges.
The 2023 McLaren Artura provided for road testing cost $259,475.
The 2023 McLaren Artura provided for track testing cost $265,190.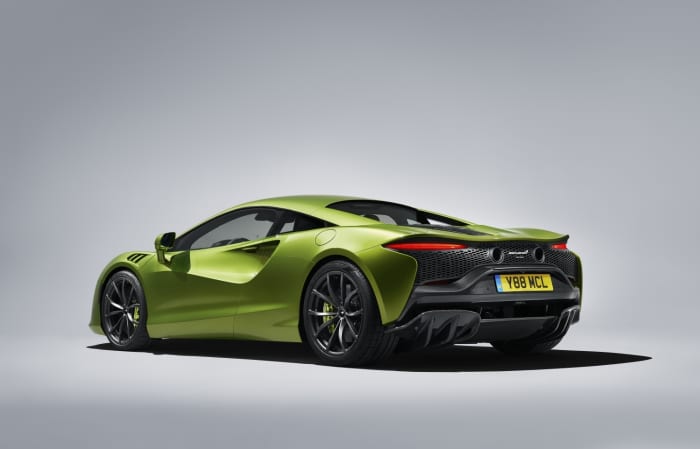 How fast is the McLaren Artura?
The McLaren Artura can go 0-60 mph in just 3.0 seconds, 0-124 in 8.3 seconds, and 0-186 in 21.5 seconds. The supercar can sprint through the quarter-mile in 10.7 seconds, and its top speed is electronically limited to 205 mph. While in EV mode, the electric-only top speed is 81 mph.
The Artura can also reduce speed as effectively as it can accelerate. Braking from 62 to 0 mph comes in just 102 feet while braking from 124 to 0 mph takes 413 feet.
Performance Specifications
0-60 mph
3.0 seconds
0-124 mph
8.3 seconds
0-186 mph
21.5 seconds
1/4 mile
10.7 seconds
Top Speed
205 mph
Electric-Only Top Speed
81 mph
Braking – 124-0 mph
413 feet
Braking – 62-0 mph
102 feet
What does the McLaren Artura look like?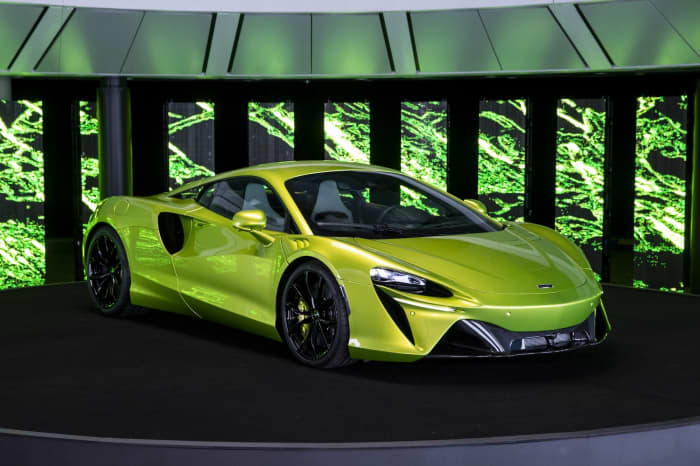 The Artura is an attractive, albeit conservative, step forward for McLaren exterior design — by no means a bad thing. Objectively, it's a head-turning exotic coupe with unmistakably McLaren design cues. No avant-garde accouterments or visual features spoil the exterior composition, producing a stunning supercar in the traditional sense.
Plus: Check out Ferrari's first SUV (just don't call it an SUV)
The Artura is less curvy than the Ferrari 296 GTB but less angular and aggressive than the outgoing Acura NSX Type S. Exterior dimensions of all three cars are roughly identical. The Artura's wheelbase is 0.5 inches longer than the NSX and 1.5 inches longer than the 296 GTB.
The Artura's interior is well-appointed and comfortable. Drivers over 6 feet tall won't feel cramped inside the cabin, and all materials are high-quality, even if lightweight. The seats are exceptionally comfortable for an exotic and more than adequate for an extended drive. Despite the relatively spacious interior, the driver's side footwell feels narrow and takes a little bit of getting used to. Artura pilots with large feet might feel as if the pedals feel very close together while driving, so those with Sasquatch paws take note.
Dimensions, Weight, and Capacities
Length
179 inches
Wheelbase
104 inches
Height
47 inches
Width, with mirrors
82 inches
Width, mirror folded
78 inches
Width, no mirrors
75 inches
Track (to contact patch center)
Front: 65 inches; Rear: 63.5 inches
Lightest Dry Weight
3,075 pounds
DIN Curb Weight
3,303 pounds
Fuel Tank Capacity
17.4 gallons
Usable Battery Capacity
7.4 kWh
Luggage Capacity
5.3 cubic feet
What is it like to drive the 2023 McLaren Artura?
On the road
During our time with the Artura, we took a long road drive through the Valley of Fire in Nevada, an excellent route for any supercar. Plenty of curves and lonely straights allow you to push the Artura closer to its limits than you can on an average rural thoroughfare.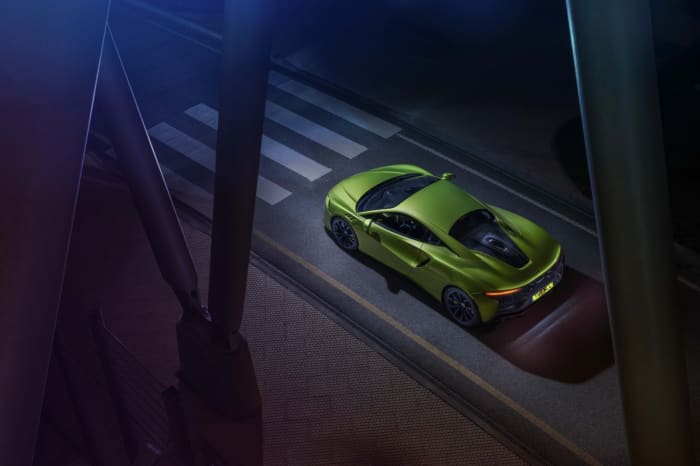 The drive modes are easy to select while piloting the Artura, with handling modes (comfort, sport, and track) selectable via a toggle on the left of the steering wheel and engine performance modes (electric, comfort, sport, and track) via one on the right. Comfort handling is the softest of the handling options. While it is far easier to bear on a local street than on a track, it still is not grand touring comfort. Sport and track handling selections progressively stiffen the suspension, finally providing the type of handling needed for the most extreme performance situations.
When it comes to the engine modes, the electric-only mode is smooth, as you would expect from an e-motor, and is a welcome, low-key addition to a supercar that already commands attention. Comfort mode is more than adequately comfy in terms of acceleration and shifting. It makes the Artura relatively easy to drive at low speeds, something other supercars have struggled with in the past. The right toggle's sport and track modes incrementally up the ante in engine and transmission synergy, amplifying the excitement and engagement behind the wheel.
Overall, the Artura was an absolute joy to drive on the winding desert roads. Thanks to the selectable driving modes, its versatility proved to be one of its strongest virtues, revealing a far more athletic persona when the roads and driver demanded it and a smoother, more restrained demeanor on the busier city streets.
You might like: Dodge's electric muscle car emerges, and it will still rumble
On the track
While the Artura was excellent during the street drive, the course at Las Vegas Motor Speedway was where the McLaren truly shined. It felt almost ninja-like in the most challenging corners and intuitive enough to allow rookie drivers to feel like Daniel Ricciardo, if just for a second. Power in and out of turns felt consistent and quick but not brutish. Could it be more aggressive? Perhaps, but there's something to be said about the gracefulness of how this supercar performs. Rather than explosive thrust, the Artura exhibits seemingly effortless acceleration as if 140 mph on a short straight was child's play. Fourteen laps of piloting the Artura was not enough — more "testing" (read: track time) is undoubtedly needed to gauge this hybrid supercar's full performance capabilities.
This story originally ran on Autotrader.com.