Car shopping is more complex than ever before. Today's shoppers must decide more than just what price they're comfortable paying and what features they want. Buyers need to determine what energy source they prefer to fuel their cars.
More Americans than ever choose to drive electric or hybrid cars. Overall, new-car sales are held down by high prices, tight inventory, and softening demand. But sales of electrified vehicles continue to grow. Figures from Cox Automotive, Autotrader's parent company, show Americans bought 67% more electric cars in the third quarter of 2022 than in the same period in 2021.
The sale of hybrids slipped year over year, but hybrid-powered vehicles are viable options for shoppers who aren't ready for an all-electric car. So it raises the question: Is this year the right time for you to buy a hybrid vehicle? This article will help you sort through the pros and cons of hybrids.
Also see: 12 hybrids and gas cars that get the best mileage
Definitions: hybrids and plug-in hybrids
Most cars use a gasoline-powered engine to move their wheels. Electric vehicles (EVs) use electric motors. Hybrid cars use both.
A traditional hybrid — sometimes referred to as a hybrid electric vehicle (HEV) — uses its electric motor to get up to a certain speed, above which the gasoline engine takes over. That gives hybrids better gas mileage than their gasoline-only equivalents. They recharge their small batteries by capturing some energy from braking.
Another category — plug-in hybrid electric vehicles (PHEVs) — also uses a gasoline engine and an electric motor. But thanks to a larger battery, they can travel at highway speeds on electric power alone. Their gasoline engines kick on only after a certain distance, usually after 20 to 30 miles of EV use. They capture some energy from regenerative braking. But they can also be plugged into a wall to charge.
Learn more: What is EV, BEV, HEV, PHEV? Here's your guide to types of electric cars
PHEVs cost more than hybrids and gas-powered vehicles. But they split the difference between gasoline-powered cars and EVs neatly. Since most Americans drive fewer than 25 miles a day, most of us could use a PHEV to do our daily commute and errands as if we owned an electric car. But we'd have the option of using gasoline for a longer trip anytime.
Reasons to buy a hybrid now
1. The tech is tested now
Many of us don't car shop very often. The average car on American roads is now over 12 years old. So it's easy to understand that many shoppers see hybrids as new technology. It's easy to lose track of what the auto industry has done in the time you haven't needed to pay attention to it.
But the first hybrids appeared on the American market in 1999. Hybrid propulsion technology is nearly a quarter of a century old. Almost every manufacturer offers one, and often more than one, model. The hybrids you'll find on sales lots today are third- and fourth-generation technologies. They're easily as reliable as gasoline-powered cars.
See: The 10 best new hybrid cars
2. The selection is fantastic
Midsize family vehicles
Want a family car that advertises your hybrid bona fides? Try the classic Toyota Prius. Prefer not to make it obvious? Try a Hyundai HYMTF, +2.95% Sonata Hybrid or a Toyota TM, +0.70% Camry Hybrid.
Minivans
Looking for a minivan? The Chrysler Pacifica Hybrid gets strong reviews, and the Toyota Sienna Hybrid has a good reputation.
SUVs
Among small SUVs, there's a Ford F, +0.87% Escape Hybrid, a Honda HMC, +0.71% CR-V Hybrid, a Toyota RAV4 Hybrid, and more.
More hybrid vehicles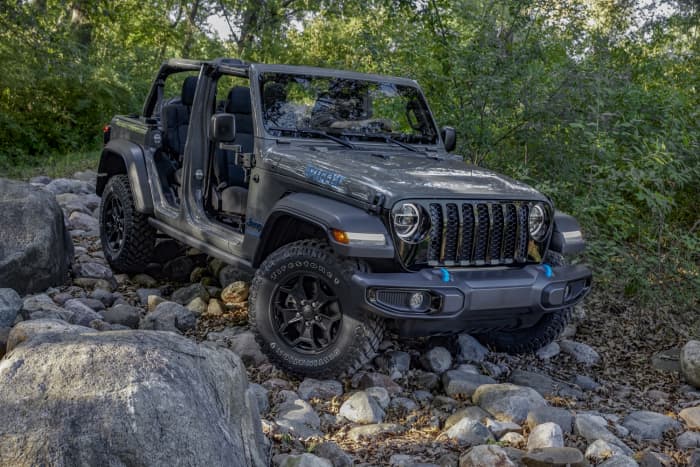 There are hybrid midsize SUVs, hybrid pickups, and hybrid luxury cars from nearly every manufacturer. You can get a physics-defying Porsche POAHY, +1.55% Panamera Hybrid ultraluxury car with a 0-60 mph time of just over four seconds. Another luxury model is the 2023 Lexus RS. You can get a hybrid off-roader in the Jeep Wrangler 4xe, which offers a hybrid mode, but it's officially a PHEV.
See: These are the electric cars and hybrids that may currently qualify for tax credits up to $7,500
3. A mature technology means a strong used market
New-car buyers aren't the only ones who should take a hard look at hybrids. There is now a robust used hybrid market. With owned cars, you can get a used hybrid under warranty and enjoy the great gas mileage while letting someone else pay the depreciation.
Reasons not to buy a hybrid this year
1. The automotive world is moving toward electric vehicles
But, just as hybrid technology isn't new, it's not the latest, either. The automotive industry is quickly going electric. Many manufacturers — like Mercedes and Mini have pledged to go all-electric by the decade's end. Others, like General Motors GM, +0.03% and Porsche, have promised to sell a mostly electric lineup with a few gas-powered vehicles.
Hurdles are slowing down the adoption of electric cars, like the need for charging infrastructure in many places (though you might be surprised which states have the most EV chargers per car).
But America is quickly going electric. If being on the cutting edge is essential to you, you might not want to be left owning a hybrid when many of your neighbors have gone electric.
2. It's a bad time to buy any car
Of course, there's one additional warning you should keep in mind before hybrid shopping. This might not be a good time to be car shopping at all.
A worldwide microchip shortage has sent the prices of most cars soaring. According to Cox Automotive data, the average new car sold for $48,681 in November. Meanwhile, the Federal Reserve has enacted its sixth interest rate hike this year, pushing auto loan rates to their highest in two decades.
Read more: 'Auto makers are building more expensive vehicles': Why you should not buy a new car in 2023
Many analysts believe the chip shortage will ease, and vehicle prices may come down in 2023. That might make waiting to buy the best move, not just for hybrid car shoppers but anyone looking for new transportation.
This story originally ran on Autotrader.com.