When millennials think about Social Security, most figure that Social Security will meet only a fraction of their retirement needs. In fact, surveys suggest that nearly half of those under 40 believe that they will not get a dime of benefit from the venerated program.
This is certainly a bleak outlook. Fortunately, this measure is not really a sensible way to look at Social Security, but it virtually ensures the worst outcome possible for these younger workers. But this misses the larger point. It's time for younger Americans to rethink the program and how it fits into your life.
Social Security is insurance, a hedge against the cost of the unknown. To illustrate, we don't know how many car wrecks we might have, so we buy auto insurance. Likewise, most of us approaching retirement don't know how many meals that we will eat at 90, and thus we need old-age insurance.
Social Security does not pay for your retirement. It is a cash payment to help offset the unexpected costs of living beyond your ability to earn wages in a job. In other words, by design it covers a fraction of your retirement needs.
Social Security is a vital program because most of us do not have the resources to cover the possibility that we live to 90 or beyond. The program is at risk because Congress has failed to respond to well documented trends and forecasts. That delay stems from the fact that so many voters are worried about the rather slim possibility that the program will be entirely disbanded far in the distant future rather than the mathematical certainty that the program as configured today will deliver benefit reductions to those least able to adjust to economic change.
It is important to understand that Social Security is not an investment. It is an expense with which workers buy some peace of mind. The concern about that expense is that the program is financially unwinding, and soon will be unable to pay its bills in full.
At this point, someone who is 75 likely expects to outlive the system's ability to pay scheduled benefits. For millennials and even younger workers, this fact means that the problem with Social Security isn't whether you will or will not receive benefits; the larger and more immediate problem is whether these younger Americans will adjust to help parents, and maybe grandparents, adapt to life on less in the form of benefits.
In that context, all Americans need to fully understand one fact about Social Security. The longer we wait to deal with the financial imbalances of Social Security the harder it gets.
We did nothing in 2021 about Social Security's finances, and as a result, the program generated roughly $800 billion in unfunded liabilities. As a consequence, millennials, their parents and those older will absorb a larger share of the program adjustments whether it is higher taxes or cuts in benefits.
The Congressional idle time is a small problem for younger workers. The more substantive problem for all Americans is lawmakers have successfully ignored the program for nearly 40 years. There is roughly a $20.6 trillion gap between what the program has promised and what it expects to pay. Roughly two-thirds of that gap stems from politicians talking about the program without actually doing anything about it.
To illustrate the manifestation of the cost of doing nothing, younger workers should consider how the efficacy of policy options deteriorate over time.
If Congress had allowed the retirement age to rise to 68 at a rate of one month every two years in 2010, the change would have solved 44% of the problem. To replicate that efficacy in 2022, lawmakers would have to increase the full, or normal, retirement age by three months per year until it reaches 70 — plus index it thereafter.
Mind you, the solution addresses less than half of the overall problem. Yet, even in the narrow context of a limited solution, the passage of 10 years has added more than three working years to the retirement plan of millennials.
When expressed in terms of how many years someone must work in order to get a year of benefits, this policy option would reset the concept of retirement back to the era of the 1950s, despite a 10-fold increase of the payroll tax in real terms since that time.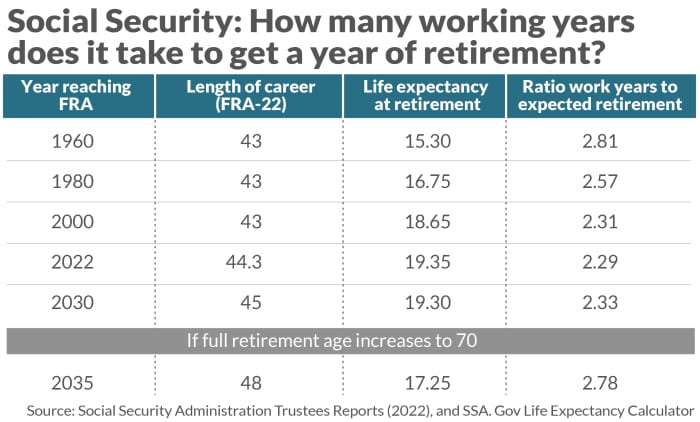 Millennials need to accept a second fact. If fixing Social Security were easy, it would be done.
If Congress could step in with a mix of gradual benefit reductions and moderate tax hikes, that deal would have been made. With every passing day, the portion of benefit reductions and pain of tax increases will be increasingly put on these younger workers.
Social Security will be there in some form when millennials retire. The only way that voters will get something meaningful from Social Security is if they demand that lawmakers stop waiting and address the problem.
Brenton Smith writes about Social Security.