U.S. stocks opened higher in 2023's first trading session Tuesday as investors try to move past 2022's pummeling while still facing the same headwinds of inflation and potential recession.
How are stocks are trading
The S&P 500 SPX, -0.12% advanced almost 29 points, or 0.7%, to 3,868.
The Dow Jones Industrial Average DJIA, -0.09% gained 144 points, or 0.4%, to 33,291.
The Nasdaq Composite COMP, -1.93% climbed 123 points, or 1.1%, to 10,590.
On Friday, the Dow Jones Industrial Average fell 74 points, or 0.22%, to 33147, the S&P 500 declined 10 points, or 0.25%, to 3840, and the Nasdaq Composite dropped 12 points, or 0.11%, to 10466. The Nasdaq Composite fell 33.1% in 2022. The yearly declines for the three stock indices were the worst since 2008.
What's driving markets
After Wall Street's S&P 500 benchmark dropped nearly 20% in 2022, equity investors appeared determined on Tuesday to start the new year of trading on a positive note.
"The calendar year may have changed, but the themes remain the same as the U.S. and U.K. markets reopen for 2023," said Richard Hunter, head of markets at Interactive Investor.
"Recessionary concerns will again top the agenda, underpinned by high inflation and rising interest rates. This in turn could point to a troubled January as investors search for positive indications that the tightening policies of the central banks may begin to ease given weakening economic data," Hunter added.
Indeed, the International Monetary Fund greeted the new year with a warning that a third of the global economy will suffer recession in 2023, a downturn that will likely trim corporate profits.
In addition, a burst of fresh strength in the U.S. dollar DXY, +0.74% on Tuesday – a common reaction to global economic slowdown worries – was likely to further crimp earnings of U.S. multinationals.
Still, Julian Emanuel , strategist at Evercore ISI, reckoned that such concerns don't necessarily mean stocks can't rally.
"Forecasting an earnings recession in 2023 to accompany the economic recession that now seems inevitable, along with a 2023 year end S&P 500 price target of 4,150, would seem impossible," he said in a note to clients.
"Yet not only is there a long history of earnings down/stocks up years (1970, 1982 and 1985 stand out, but there is also the tendency for strong stock/bond return years to follow historically forceful tightening cycles (1982, 1985) particularly in years (1995) following 'havoc being wreaked' on a 60/40 portfolio such as 2022's declines." Emanuel added.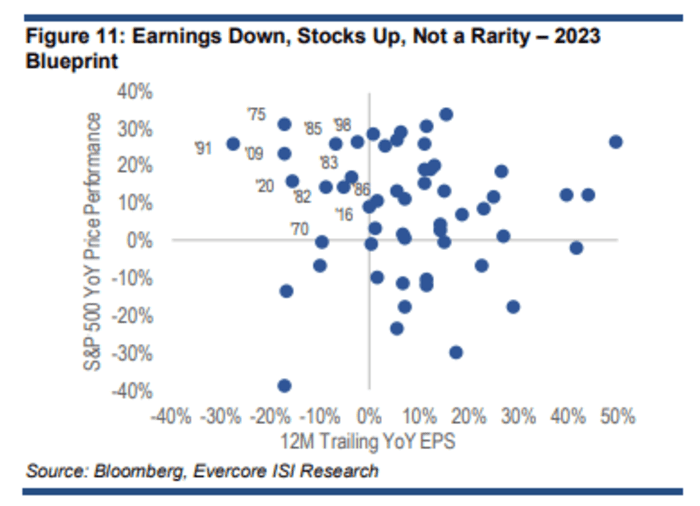 U.S. economic updates set for release on Tuesday include the December S&P U.S. manufacturing PMI at 9:45 a.m. and the November reading of construction spending at 10 a.m., both times Eastern.
Later in the week there's also Friday's December jobs report, the final employment report the Fed will have to consider before its next meeting on Feb. 1.
Companies in focus
Electric car maker Tesla TSLA, -9.34% announced fourth quarter deliveries that were below consensus. With shares under pressure, the company reported more than 405,000 deliveries while analysts on average were expecting 427,000 deliveries, according to FactSet. The car maker delivered 1.31 million cars last year, up more than 40% from 2021. Shares are down around 6% in early trading Tuesday.