A new year is often a time when people think about making positive changes in their lives, but it turns out Americans are not feeling great about 2023.
This is particularly true about the economy.
According to a new poll from Gallup, 79% of Americans think 2023 will be full of economic difficulty, 65% of people think overall prices of goods and services will rise at a high rate and 81% of people think taxes will increase this year.
The negative sentiment about the economy is not just held by Americans who took part in this poll. Kristalina Georgieva, the managing director of the International Monetary Fund, said 2023 will be "tougher" than 2022, and with potentially one-third of the global economy entering a recession this year.
Overall economic confidence among Americans has actually ticked up in recent months, from net -45 to -39, but is still fairly negative.
See also: Do these 15 things in 2023, and you could be significantly richer
Americans aren't optimistic about politics either: 90% say 2023 will be ripe with political conflict as the U.S. enters a period of divided government for the first time in two years.
Additionally, 85% of Americans predict a "troubled year" for international affairs compared with a "peaceful year."
The U.S. will see its power in the world decline, 64% of Americans say, compared with 73% of those polled who think China will see its power in the world expand.
Much of the pessimism also falls along party lines. Democrats were more likely to be optimistic about every single economic and political factor in the poll. Although not ironclad, members of the party currently in control of the White House tend to be more optimistic in polling.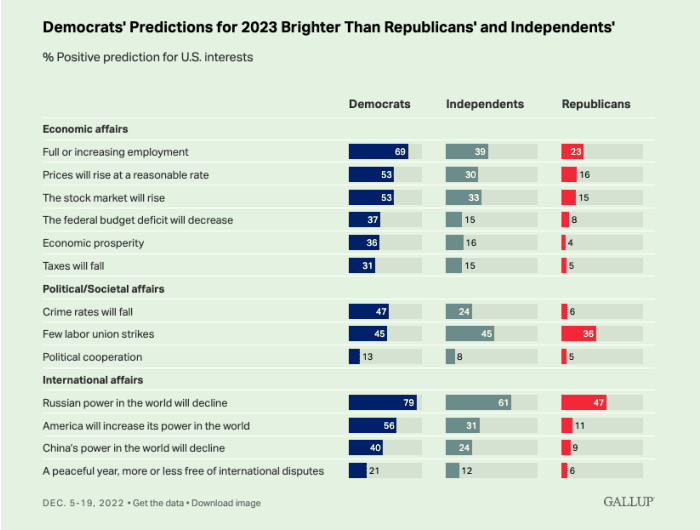 This poll, which was conducted Dec. 5-19, 2022, is unique because it offers opposing answer options for each question in the poll. For example, it asks if Americans think taxes will fall or rise, or if the U.S. will experience prosperity or difficulty.
Questions with binary answers like these may leave out real possibilities between the two polarities such as taxes in the U.S. staying relativity the same, or prices for goods and services remaining somewhat in line with their current levels.
Interestingly, when polled about the country, Americans have been more likely in recent years to say they are not satisfied with its overall direction, but simultaneously say they are are satisfied with their lives individually.
A 2022 Gallup poll showed that an overwhelming 85% of Americans are satisfied with their lives, and that number was as high as 90% in 2020 (just a few months before the start of the COVID-19 pandemic).