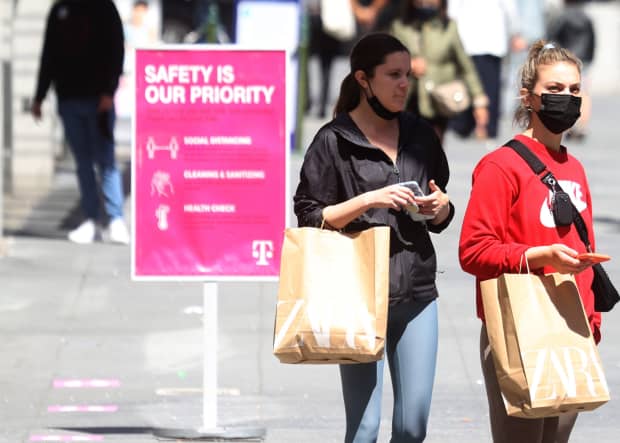 Email icon

Facebook icon

Twitter icon

Linkedin icon

Flipboard icon
U.S. stocks climbed Friday afternoon as investors took a weaker-than-expected reading of April retail sales in stride, shaking off a tumultuous week that has been marked by growing inflation fears.
Friday's climb helps to pare steep weekly drops for the Dow and the S&P 500 index, after reports on inflation, labor shortages and higher commodity prices raised concerns that the Federal Reserve would have to pull back on its easy-money policies sooner than expected.
What are major benchmarks doing?
The Dow Jones Industrial Average
DJIA,
+1.18%
jumped 379 points, or 1.1%, to about 34,401.
The S&P 500
SPX,
+1.61%
gained 62 points, or 1.5%, to trade near 4,175.
The Nasdaq Composite Index
COMP,
+2.36%
surged about 286 points, or 2.2%, to near 13,411.
On Thursday, the Dow finished with a gain of 433.79 points, or 1.3%, as stocks took back a chunk of the previous session's rout and ended a three-day losing streak. The Nasdaq Composite rose 0.7%, while the S&P 500 advanced 1.2%. Major benchmarks remain on track for sizable weekly declines, with the Dow down 2.2% through Thursday, the S&P 500 off 2.8% and the Nasdaq down 4.6%.
What's driving the market?
Investors may be viewing the past few sessions as a buying opportunity, despite a batch of economic reports that have illustrated the challenge of recovering from the COVID-19 pandemic.
Savings levels are higher and "people have a hard time sitting on their hands" when they see buying opportunities after a dip, Chris Shea, chief investment officer at WealthSource, said in a phone interview Friday. "There's a lot of refueling of the economy that is still to come."
Early Friday, data showed sales at U.S. retailers were unchanged in April after a blockbuster 9.8% gain in the prior month when the government sent out $1,400 stimulus checks to most Americans. Economists polled by Dow Jones and The Wall Street Journal had forecast an 0.8% increase.
Some analysts took the reading in stride.
"A flat retail sales read is actually par for the course in a normalized environment so in a way this actually shows that retail is somewhat stabilizing," wrote Mike Loewengart, managing director, investment strategy at E-Trade Financial, in an emailed note.
"So while on its own this read is not likely to move the needle in either direction, it probably supports the point of view that the dip we experienced this week is a buying opportunity as all sectors march toward full recovery," he wrote.
Earlier this week inflation worries moved front and center for equities and other markets, reinforced by a hotter-than-expected reading on the April consumer-price index on Wednesday. Technology and other interest rate sensitive growth stocks have suffered the most as Treasury yields rose in response.
WealthSource, which manages about $1.7 billion in assets, has a "modest overweight" to growth stocks, according to Shea, who is based in Greenwich, Connecticut. "We're not sheltering in place," he said. "I'm generally bullish."
"Higher inflation is likely to remain in the spotlight as the post-pandemic recovery accelerates," said Mark Haefele, chief investment officer at UBS Global Wealth Management, in a note. "But while we expect inflation fears to generate bouts of volatility, and we continue to position for reflation, we also see such market swings as an opportunity to build exposure to structural winners."
In other data on Friday, an April import-price index showed a 10.6% rise in past year, a 10-year high. U.S. import prices rose 0.7% in April, also up 0.7% minus fuel.
U.S. manufacturing output rose 0.7% in April , the Federal Reserve said Friday. Economists polled by the Wall Street Journal had forecast industrial output rising 0.8% in April. Production rose a revised 2.4% in March, up from the initial estimate of a 1.4% gain.
Meanwhile, U.S. consumer sentiment slumped unexpectedly this month, MarketWatch reported Friday. The University of Michigan's index of consumer sentiment fell to 82.8 in May for the lowest reading since February. The index had hit a pandemic high in April.
Which companies are in focus?
How are other assets faring?
William Watts contributed reporting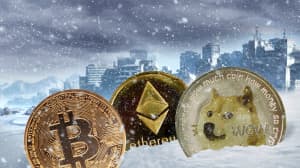 Is an new crypto winter upon us? It's impossible to know for sure but digital assets are in the midst of a significant decline on Thursday that is taking most prices back down to their lowest levels in months, and it isn't just comments from crypto bull Elon Musk sparking a bearish tone in the sector.