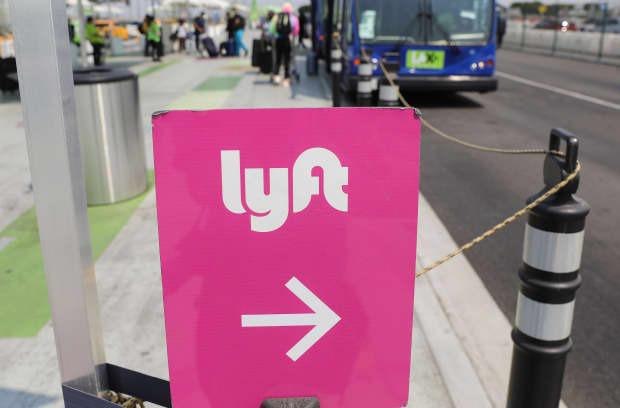 Lyft Inc. on Tuesday reported fourth-quarter results that showed there was a continued rebound in ride-hailing, but it was marred by an increase in COVID-19 cases that sparked the reintroduction of some restrictions.
Lyft
LYFT,
+0.43%
said it had 12.552 million active riders in the quarter, while analysts had expected 13.2 million. But Chief Executive Logan Green said on the earnings call that ride-hailing trends are positive.
"Based on current trends, we believe the U.S. could reach critical immunity levels earlier than many international destinations," Green said. Still, Chief Financial Officer Brian Roberts said it was "extremely difficult to forecast first-quarter rides with any confidence."
Lyft shares rose more than 10% in extended trading after rising 0.4% in the regular session to close at $53.64, after the San Francisco-based company posted a narrower-than-expected full-year loss. The company touted its continued cost-cutting measures and said it was on track for EBITDA profitability by the fourth quarter, and maybe even during the third quarter.
Get Breaking Stock Alerts
Stay informed of the biggest news on stocks so you can react before 90% of retail investors.
The ride-hailing company reported a fourth-quarter loss of $458 million, or $1.43 a share, compared with a loss of $356 million, or $1.19 a share, in the year-ago period. The adjusted net loss was $185.3 million, or 58 cents a share, adjusted for stock-based compensation, payroll tax expenses and more. Revenue fell to $570 million from $1 billion in the year-ago quarter. Analysts surveyed by FactSet had forecast a loss of $391 million, or 71 cents a share, on revenue of $560.3 million.
For the full year, Lyft reported a loss of $1.75 billion, or $5.61 a share, on revenue of $2.4 billion, compared a loss of $2.6 billion, or $11.44 a share, on revenue of $3.6 billion in fiscal year 2019. The adjusted loss was $829 million, adjusted for stock-based compensation, payroll taxes and more.
Analysts on average had expected a loss of $1.68 billion, or $2.82 a share, on revenue of $2.35 billion, according to FactSet.
While Lyft executives said it was tough to predict what would happen in the first quarter, they expressed optimism about subsequent quarters and beyond.
"I think there's a lot of hype that's kind of hogwash about how cities are dead and everybody is going to leave cities," Green said on the call. "There have been economic disasters, wars, pandemics in the past. And after each one, cities come back stronger than ever. So I don't foresee that kind of change having an impact on our business long-term."
Lyft's stock has risen about 10% so far this year. The company's shares are also up about 79% in the past three months — since Lyft and other gig companies were successful in getting a California ballot measure passed, which exempts them from a state law that would force them to classify their drivers as employees instead of independent contractors.
On the call, Lyft President John Zimmer reiterated the company's intention to build on the gig companies' victory in the state, saying "We continue to view the outcome in California as a turning point in the conversation around the future of work in America."
Other future plans the executives addressed on the call included autonomous vehicles and business-to-business delivery.
Green referred to the partnership Lyft has with Motional, with which it has tested giving rides in self-driving vehicles since 2018. The companies announced in December a plan to roll out fully autonomous vehicles by 2023.
As for business-to-business delivery, Zimmer said the company was not ready to talk specifics. But he said he was "excited" about the opportunity for both Lyft and local businesses that are looking for a delivery solution "that doesn't compete with them for the direct-to-consumer relationship."