Second round of checks for American households has been a priority across ideological lines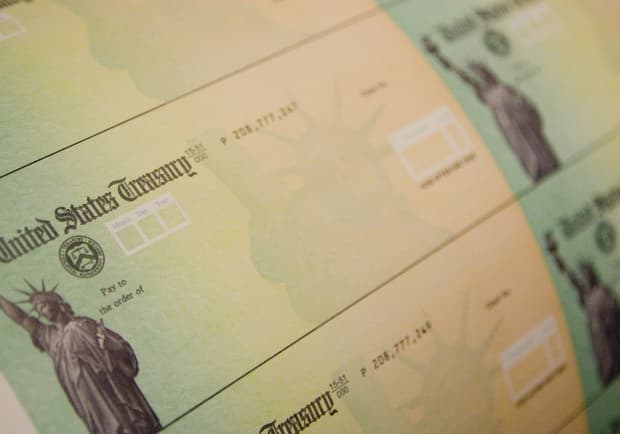 Facing down a Friday deadline, party leaders on Capitol Hill Wednesday afternoon were still edging closer to a deal on providing another round of economic stimulus to offset the coronavirus pandemic's impact, but could wind up needing more time.
Negotiations kicked into high gear Tuesday night, as the Hill's party leaders – House Speaker Nancy Pelosi, Senate Majority Leader Mitch McConnell, Senate Democratic Leader Chuck Schumer and House Republican Leader Kevin McCarthy – gathered for several hours but failed to reach a deal.
"We're still talking and I think we're gonna get there," McConnell told reporters Wednesday afternoon. Pelosi took a similar line, saying, "We're making progress. That's all I'll say."
Leaders hope to attach a coronavirus aid deal totaling about $900 billion to a separate $1.4 trillion bill providing full funding for the government through September 2021. To avoid a government shutdown, they need to pass the latter bill by midnight on Friday.
While work on the funding bill is largely done, according to the chairman of the Senate Appropriations Committee, talks on the coronavirus aid bill could end up requiring the passage of just a temporary stopgap funding bill.
House Majority Leader Steny Hoyer, speaking to reporters on a weekly conference call, acknowledged that possibility.
"I want to get done by Friday night, but if we don't get done by Friday night, I don't want to shut down the government. If we need three or four more days, we will take as much time as is necessary to fund the government as well as provide relief to those who have been savaged by COVID-19," Hoyer said.
The emerging package appears similar to a bipartisan proposal put forward by a group of senators on Monday totaling $748 billion and includes a revival of many of the provisions in the CARES Act from March. That bipartisan proposal, though, did not include direct checks paid to Americans.
Get Breaking Stock Alerts
Stay informed of the biggest news on stocks so you can react before 90% of retail investors.
A second round of stimulus checks, similar to but smaller than the $1,200 ones doled out to most Americans in March, are a part of new package, according to Sen. John Thune, the second-ranking Republican in the Senate.
Thune said the checks would probably be worth $600 to $700 per person, smaller than March's payments, in part to keep the overall cost of the package around $900 billion.
"It depends a little bit on kind of what the triggers are and what kind of conditions they put on them, and that will probably be done, designed to fit within the parameters of the — the number they're trying to hit," he said.
And there could be disagreement over those parameters. Sen. Josh Hawley, a Republican from Missouri, told reporters he still wanted to see $1,200 checks. And Sen. Lisa Murkowski, an Alaska Republican, said checks should be limited to "those that are truly in need, based on income."
A second round of checks has support from across the political divide. Late Tuesday, Rep. Alexandria Ocasio-Cortez, a high-profile House Democratic freshman, tweeted her support, saying she would not vote for a package without them.
"It's a red line. It's also common sense," she tweeted.
Ocasio-Cortez's stance followed the formation of an unlikely alliance last week comprising liberal Vermont Democrat Sen. Bernie Sanders and conservative Hawley, who jointly supported another round of checks.
Thune also said he would be surprised if the new package also didn't include an extension of pandemic unemployment benefits and a revival of a federal add-on payment to state jobless checks, in the amount of $300 per week through March.
More money for households could help keep the economy from stalling out as it faces another onslaught of COVID-19 cases that will drive down economic activity. Retail sales dipped 1.1% in November, the government said Wednesday, in the latest sign that the U.S. economy is pulling back.
Another round of forgivable small business loans under the Paycheck Protection Act would also be included. Sen. Ben Cardin, a Maryland Democrat who worked on the original PPP language in March, said more funding "in the ballpark" of $330 billion, was likely.
Sen. Richard Shelby, the chairman of the Senate Appropriations Committee, said that the funding bill has been largely finished since early in the week and that he hoped a short-term stopgap bill would not be needed to keep the government open past Friday as lawmakers wrapped things up.
"Well, it's not done until it's done, as you know," he told reporters Wednesday.