Capitol Report

Meeting comes as Congress faces Friday deadline to avert government shutdown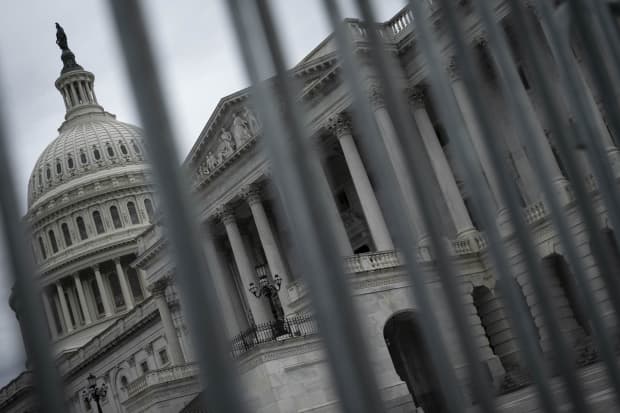 Democratic and Republican leaders from both chambers of Congress met face-to-face Tuesday night in an effort to find a coronavirus economic aid deal that has eluded them for months.
The quartet of leaders — House Speaker Nancy Pelosi, Senate Majority Leader Mitch McConnell, Senate Democratic Leader Chuck Schumer and House Republican Leader Kevin McCarthy — began their meeting at Pelosi's U.S. Capitol office late in the afternoon, took a break and resumed again Tuesday night, with few overt signs of progress.
"We're still talking, we're still talking," Schumer told reporters after the second session broke up.
The meeting broke up after 10 p.m. Eastern, apparently done for the evening.
Earlier, after the initial confab ended, McConnell said the group had agreed lawmakers should not leave Washington for the holiday break without a deal on coronavirus aid and a fiscal 2021 government funding.
"We're going to get an agreement as soon as we can agree," McConnell said.
Ahead of the meeting, the fate of additional aid for cash-strapped states looked to be a central item in the talks.
Democrats have said additional money for states is a high priority, even as Senate Majority Leader Mitch McConnell and other Republicans have said the issue can wait until next year.
Get Breaking Stock Alerts
Stay informed of the biggest news on stocks so you can react before 90% of retail investors.
That divide was on display again, ahead of a 4 p.m. Eastern meeting, when Sen. Chuck Schumer, leader of the Senate's Democrats, told reporters, "On state and local, everyone knows my position. It has broad bipartisan support and I'm not going to get into negotiations in any way that'll occur at 4 o'clock."
After his party's weekly lunch, McConnell said he supported setting aside both the state and local aid issue as well as a Republican priority, increased legal liability protections for businesses and non-profits for coronavirus-related claims.
"We all know the new administration is going to be asking for yet another package. It's not like we won't have another opportunity to debate the merits of liability reform and of state and local government in the very near future," McConnell said.
States received $150 billion in state and local governments in March's CARES Act and the Trump administration went as high as $250 billion in new money in its failed negotiations with Democrats this summer. But the GOP has increasingly balked, pointing to slow rates of spending of existing aid and better-than-expected budget pictures in some states.
The quartet — McConnell, Schumer, Pelosi and McCarthy — are discussing both a new coronavirus aid package as well as deal to fund the government through September 2021. The resulting combination bill would likely start in the House before the Senate voted on it, McConnell told reporters.
The conference comes as lawmakers face a Friday deadline for passing another bill to keep the government open and increasing pressure to come to an agreement on more economic aid as the economy flinches under the newest wave of COVID-19 cases.
A bipartisan group of senators Monday unveiled their own proposals, a $748 billion bill with revivals or extensions of many popular CARES Act programs and a smaller $160 billion bill favored largely by Republicans that includes business liability changes and money for states and local authorities.
On Monday, Sen. John Cornyn, a Texas Republican, said time was growing short. "I would be shocked if we didn't see something pretty concrete by at least Wednesday. Because we've got to vote on this thing by Friday and get out of here," he told reporters.