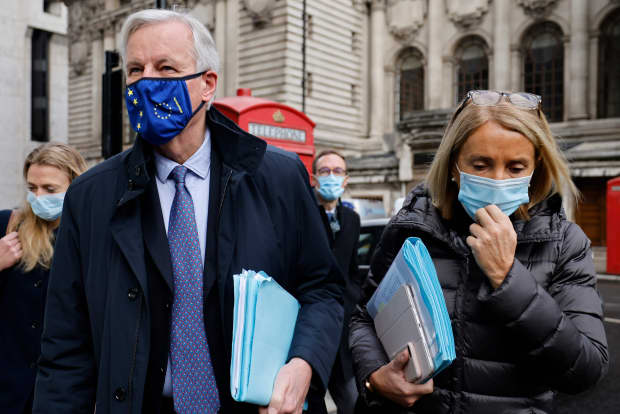 High-level Brexit trade talks were suspended on Thursday, after a member of the European Union's negotiation team tested positive for COVID-19.
The European Union's chief Brexit negotiator Michel Barnier said he had agreed with his U.K. counterpart David Frost to "suspend the negotiations at our level for a short period." Both teams will continue working "in full respect of guidelines," Barnier added.
The U.K. left the EU on Jan. 31 but the two sides must reach a deal over their future trading relationship before the transition period ends on Dec. 31. Talks over a post-Brexit trade deal have gone down to the wire, with both sides saying an agreement must be reached by mid November, in time to be ratified by the end of the year.
Get Breaking Stock Alerts
Stay informed of the biggest news on stocks so you can react before 90% of retail investors.
As negotiators from the U.K. and the EU headed to Brussels this week for crunch talks, key issues, such as fishing rights and competition rules, remained unresolved.
Read: Brexit trade deal 'may not succeed' before year's end, U.K. negotiator warns
The pound
GBPUSD,
+0.03%
has climbed in recent days on optimism that a trade pact may be signed as early as next week, but was 0.4% lower on Thursday.
Frost said: "I am in close contact with Michel Barnier about the situation. The health of our teams come first." European Commission President Ursula von der Leyen wished the EU team member a "speedy recovery."